It's no secret that next-gen consumers like to text with friends and even family rather than phone them. At Fonolo, we've been wary of reading too much into channel preference data and cohort studies, but there is no denying that SMS is becoming a more significant part of customer service interactions. In fact, by 2020, around 50 million consumers will opt-in to receive business SMS. According to CTIA, there were 1.5 trillion text messages sent in 2017 alone.
While consumer-to-consumer SMS is already ubiquitous, the medium is gaining rapid popularity for B2C and B2B interactions, including for customer service. Businesses are getting the message, pun intended, and are starting to engage and serve customers through this channel. Despite the popularity, SMS remains a relatively new domain where the dos and don'ts for its success are just beginning to emerge.
To help you keep any SMS faux-pas to a limit, we've put together these five customer service messaging do's and don'ts.
Do Send Updates and Notifications
One of the most prominent applications of SMS is the ability to send updates and notifications. Offering automated replies for the most common technical support questions is just one application of using SMS for customer service. Also, SMS can be used to notify support personnel of a new request and, conversely, notify customers of the status of their inquiry. Not only can these updates and notifications be used to respond to customer service inquiries, but they can also preempt them by alerting customers to flight delays or expected delivery times.
Do Make it "On-Brand"
SMS is a great channel to reinforce your brand: Match the tone and language of your content, and the speed of your responses to the brand personality.
As an example, a retail brand targeted at millennials and Gen Z might use a more informal language with emojis and faster-messaging cadence relative to a health insurance brand aimed at an older age group.
Do Not Disturb
This one should go without saying, but not all customer service leaders know the right way to build a clean, opt-in SMS database.12 Did you know that sending a text message to someone who hasn't opted in is not just annoying, it's illegal? Beyond ensuring that your customers have opted-in, ensure that you are not sending texts after 9 pm or before 11 am, which means you'll need to gather preferences at opt-in like time zone and city code.
Do Survey Customers Through SMS
The vast majority of your customers will never complain if they've had a bad experience, you'll lose their business and never know why. It turns out that SMS is an ideal way to find out the real opinions of your customers. By conducting SMS polls and follow-up surveys, you'll give them a neutral platform where they are more likely to tell you how satisfied they were with your service.
Don't Silo Interactions
The last thing the customer or the agents want is yet another disconnected silo. Agents should be able to access a 360-degree view of any interaction in case a customer decides to pick up the phone or message via social media. Also, proactive messaging notifications need to be unified into the same infrastructure as "reactive" customer service messaging. Again, look for a solution provider that offers a unified omnichannel messaging and customer engagement platform.
Some trend-savvy businesses have already started focusing on SMS as an integral channel for customer communication, and as this movement continues, more and more customers will begin expecting organizations to be available on their most-used channel. While voice conversations are still critical, SMS's importance as the go-to channel for business-to-person (a.k.a. application-to-person) has only grown from strength-to-strength.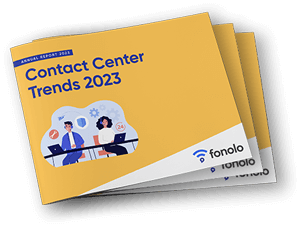 Trend Alert! Contact Center Industry Predictions for 2023
This report offers perspective on where the contact center industry stands today, plus our trend predictions for 2023.