In the last five years, the trend of outsourced overseas call centers has begun to reverse. This reversal means more U.S. based call center agents and more competition when hiring problem-solving, caring-natured people. In a study by Jobvite, 95% of recruiters say hiring will be as, or more, competitive in the coming year. Given that agent performance directly impacts top and bottom-line revenue, quality of hire for these key customer-facing roles become even more critical. But, while quality matters, the hiring process still needs to be efficient and seem reasonable to candidates and recruiters alike.
Against the backdrop of a competitive labor market, how can call center leaders develop a hiring process that identifies the best applicants promptly? Here are three call center hacks that will help you hire great agents.
Hire for Culture Fit Over Experience
According to Thomas Laird, CEO of Expivia, culture trumps experience when it comes to hiring call center agents. Laird wants associates to have a "sunshine attitude and an entrepreneurial mindset." He notes that "we know exactly the type of individual that fits our standard and creates the type of working environment where our employees enjoy each other and come to work because they have the attitude we are looking for. Every employee that we hire no matter if they have ten years of experience or no experience must meet this standard. In fact, we believe this standard is more important than experience."
This approach is beneficial as it creates a competitive atmosphere where agents want to be the best and want to move up in the company. You can always educate sales and service strategies, especially if the employees you are coaching have great attitudes and desire to succeed. The numbers back this up too. Organizations that go beyond experience and assess candidates' underlying
Conduct Pre-employment Assessments
A pre-employment assessment is the systematic evaluation of candidates' skills and competencies using tools such as online tests or job simulations. Professionally developed, valid assessment tools have been shown across hundreds of research studies to predict on-the-job performance, including key call center metrics such as customer service, retention, and call handle time.
Job simulations provide another avenue in which to identify the best candidates. These "auditions" provide visual assets, audio files, question formats, and characters that mimic the types of customers who will be encountered on the job. Within minutes of beginning the audition, candidates must grapple with complex customer issues, deal with angry callers, and learn to navigate a new system.
Look for Certain Soft Skills
The reality is that customers are not usually calling to say how happy they are. A quality agent will solve problems effectively, but a fantastic agent will solve the problem while making the customer feel validated. Humans operate call centers, and customers appreciate knowing their opinions are heard.
When interviewing, empathy can best be gauged in terms of listening. Does the candidate think critically about your questions and give thoughtful responses, or are they waiting for the first opportunity to deliver a pre-meditated pitch? Other soft skills include patience and grade under pressure, attention to detail, and confidence.
Picking a perfect candidate to strengthen your call center is not an easy task. However, knowing what you're looking for and what you want to avoid will narrow the choice. Try to recognize who is a talented candidate or who can pick-up skills that can be trained in time.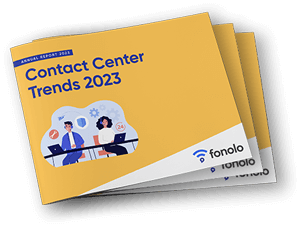 Trend Alert! Contact Center Industry Predictions for 2023
This report offers perspective on where the contact center industry stands today, plus our trend predictions for 2023.