At a time when many business owners are removed from face-to-face interaction with their clients — hospitality, food, retail etc. — it's becoming more and more important for companies to engage with their customers. Whether it's on social media, chatbot or other AI technology features, it's important to know what your customers want and use tools that will help you increase your ROI.
You may think that call centers are for big companies but the truth is, they have a lot of value for small and medium-sized businesses as well. To manage customers and staff communications, the key is to use cloud-based software or apps.
Not only does it save you money on hardware costs and expensive storefront commercial spots, but many software programs, or app, work on mobile devices; they can monitor agent results, and, analyze call data for as little as $20 a month.
The Best Apps for Virtual Contact Center Teams
We're going to walk you through some of the best remote contact center technology and apps to use for your business and remote teams.

Perfect for any remote sales team, the cloud-based service not only allows you to manage it through an app but it allows you to use local numbers from at least 75 countries in the world. You can have an automatic dialer and provide general customer support through call recording and its many other functions. What's great about this one as well, while limited in scope, is that it tracks basic data so that you can focus on improvement while managing success rates.
It priced reasonably for its capabilities and it allows you to manage three projects per user. Depending on your needs, it's a great tool that can introduce you to the world of cloud-based software or contact call center technology.
This cloud-based phone system is pretty easy to use. It doesn't involve any hardware and it's pretty easy to set up as well. If you're a smaller business with intentions to manage customer calls or inquiries, this is the set up for you.
For larger businesses with widespread demands, it's not the best. Substandard mobile apps and no video conferencing are some of its flaws but all in all, it's a well-rounded software program that can help you connect with customers in more than 50 countries. With the ability to assign multiple numbers to each person or team member, you can have as many lines as you can handle for about $7 (each line). It has call recording, analytics settings and a host of other integrations.
HubSpot is one of the leading players in the contact call center space and is one of the best CRM systems for most businesses.
Working in tandem with Aircall, it gives the software even more capability. Service Hub includes a shared email inbox, live chat software, and self-service tools, all of which integrate seamlessly with Aircall for phone support.
HubSpot's Help Desk Software is integrated with Aircall and is built in tandem with HubSpot's sales and marketing software. That means that no matter who the customer talks to, the front-line agent has all the information they need to resolve the issue directly in front of them.
Allowing you to connect to multiple customer service channels, including rentable telephone lines, live chat, and email queues. It offers you both chat and video to directly connect with clients and it also offers email, document management, social intranet service, calendars and so much more.
What's also great about this app is that you can produce quotes and invoices, create email marketing newsletters and other communications, and provide multichannel customer support through its contact center and helpdesk platforms.
This call center solution is great for larger teams and businesses. From workforce management to industry-specific security features, TalkDesk helps you with everything you need to deliver a consistent customer experience.
It can rout calls to the most qualified agent to handle each customer while reducing average handle times. It also helps to increase agent efficiency through the use of automation and it can also identity coaching opportunities by listening to phone calls.
It not only uses AI to identify CSAT issues but it provides a record of reporting to help you improve your ROI. Integrated with Salesforce, you can use SMS, video and multiple other channels to connect with customers.
Five9 offers workforce management tools, predictive dialing, and CTI (computer telephony integration). It allows agents to provide better service and give you tools to upsell as well.
Five9 also provides advanced workforce management tools to help supervisors maintain high-quality service. With real-time and historical data insights for accurate reporting, it's a great tool that allows your agents to log on from anywhere as long as you have the internet.
Using Virtual Contact Center Apps  
All of these apps for remote contact center teams can allow your customers to reach agents via phone, web, chat, email, mobile apps or social media and maintain a unified view of the customer's journey across all touchpoints.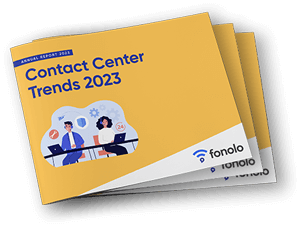 Trend Alert! Contact Center Industry Predictions for 2023
This report offers perspective on where the contact center industry stands today, plus our trend predictions for 2023.