We speak with Laura Reinhold, Member Services Manager at Credit Union of Colorado, about growing up with a 'heart to help,' breaking down barriers for customers, and the importance of being visible to your team.
What's your origin story? What path led to where you are now at the Credit Union of Colorado?
I've worked in the credit union industry for the majority of my professional career. But I guess you could say I grew up in a 'credit union' family. We had a local community credit union, and that's where we went for banking. I remember opening my account there; I remember my mother helping me get the loan for my first car there. I just felt very comfortable with credit unions.
As my grandmother got older, I would help her with her finances, helping her get to the bank and do the things she needed to do. I've always enjoyed helping people, and money can be such a stressor in life because it represents so many different things to people.
I think I was just drawn to an industry where I could help people in some way to make their lives better, and the credit union industry has allowed me to do that.
What is the customer service mandate, or overarching manifesto, for customer service at Credit Union of Colorado?
As we're a credit union, it's all about putting our members first. Our tagline is 'Here to Help,' and we aim to fulfill that 100% of the time. When we hire, we try to 'hire for a heart to help' because not everybody is suited for that. And it can be exhausting!
And have you seen any significant changes or trends in channel usage or technology during your time at CUofCO?
The biggest change has been the chat feature, which we introduced in 2017 and has grown exponentially since. The biggest surprise about that was that we were expecting a drop in phone calls, which never happened — they've stayed pretty steady.
We think that was because these were questions that people wanted to ask before, but it wasn't convenient to ask it. But a chat function reduces that friction; the barrier is lowered, and we increase member satisfaction by helping them at another stage in their journey.
Every contact center manager seems to value different metrics — what KPIs do you use?
The number that we pay the most attention to is the Net Promoter Score. We don't look at things like Average Handle Time because that's not how we want to take care of our members. When we were going through our digital banking conversion, some calls were over an hour and a half — but they needed to be!
We mainly look at member satisfaction because if members are happy, then we're doing the right thing by them. That's the only reason we're here; to take care of our members. So we follow NPS closely and respond to as much feedback as we can.
From an internal viewpoint, we try to make sure that our staffing is correct — both in terms of handling call volume and agent workload. And we try to approach everything mindfully by asking questions like, "Why is this happening?" and "Could we be doing things differently?"
What do your role and team look like now?
We have a contact center manager and our operations analyst, both of whom report directly to me. And then our contact center manager has four supervisors, and each of those supervisors has a team of around 11 'Member Advocates' — our term for support agents — who are mostly full time, although we also have some part-time Member Advocates on the team.
We also have a role called a 'Specialist.' They're the support function for the rest of the team on a day-to-day basis; for any troubleshooting, any type of escalation, extra research, or just that additional layer of support when things are busy. If we put everybody together, our entire department is 55 employees.
How do you ensure the lines of communication stay open when dealing with such a big team?
We have a variety of channels and try to create lots of opportunities for us to be together. Management has a very visible presence and is approachable too.
We have internal chat functionality, so we have a chat room that we restart every day, where we can communicate on a high level, say if there's something at that moment that we need to know or a question that we have.
Each team will also have what we call 'huddles' regularly, where we take a few people off the phone at a time. Those huddles are a great opportunity to review any new information — say about a new product or service, and the team can ask questions or discuss any issues that came up recently. We also have larger, all department meetings every quarter to get everybody together.
We also try to be very visible. We're on the floor, walking around and talking to everybody like we do at social events. Then we have one-on-one meetings, where anyone with direct reports will meet with them once a month to discuss their professional development and or any challenges they're having.
Our HR department also does a great job with social events; they're getting an Italian shaved ice truck to come on-site this Friday. We also have potlucks and BBQs so that people have a chance to have those more organic interactions where they can really connect.
How do you help your team handle the stress and emotions that can come through working with frustrated customers?
That's something that I decided to tackle when I first arrived at CUofCO because we didn't have anything formalized.
When I first started in customer service, I remember that feeling of not really having anyone to turn to. We took some of the concepts from two fantastic books, "A Complaint is a Gift" and "Effortless Experience"; For example, we made soft-skills training part of onboarding.
When a member calls in, and they're upset, I have to dodge that emotion and not take it personally. They're not frustrated at me. They're frustrated at the situation. But as humans, we're not always programmed to respond positively to someone shouting at us.
We try to help our agents see beyond the immediate frustration. There are so many other stressors for people; they may be going through a rough patch, have cancer, or have a loved one die recently. You never know.
So we talk about how to remove the friction from a solution; instead of being this barrier to them, we move to the side and become their partner. We're on that person's team to help them figure out what to do and take care of them.
We also teach them about triggers and emotions, and the different techniques you can use to move people from an emotional state to a more logical state. If you ask a person two or three logic-based questions, it helps them move into a more logical state, and you can eventually get to that point where you're working with them to try to find a solution.
We talk about it; we have classes, we do refresher classes, we do role-playing. And then we also have that specialist role for additional support, because if someone is new or if this is maybe one of their first jobs, they haven't had the practice — and it doesn't just happen overnight.
One employee had a hard time because she really took those situations very personally and took those negative emotions home with her. So we coached her, worked with her, and coached her some more, and she just kept at it.
One day, she came into my office and just said, "I've got it! I helped this person; it clicked!" And now she's in a different department and has brought that approach to her department as well.
What's the biggest impact that call-back technology has had on your contact center?
Aside from the drop in abandonment rate, which I think was around the 50% mark, I would say that giving our members the choice and respecting and valuing their time has had the biggest impact. And that translates across into higher members satisfaction and higher net promoter score, simply because they have a choice.
We're not forcing them to sit and wait and put their busy life on hold to speak to us. We give them the freedom and flexibility to decide what meets their needs. And respecting people's time in this busy world is so important; people really appreciate that.
You can connect with Laura on Linkedin here.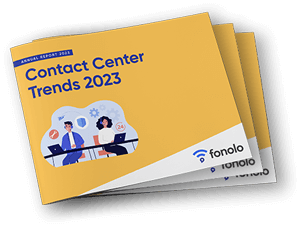 Trend Alert! Contact Center Industry Predictions for 2023
This report offers perspective on where the contact center industry stands today, plus our trend predictions for 2023.