We thought we were bold when we said more than 65% of contact centers would move to the cloud in 2020.
It happened even faster than we thought.
Read the Full Industry Report Here:
We've spoken to the experts for our State of the Contact Center report. And it looks like it's here to stay…
Contact Centers Made an Unprecedented Pivot to Virtual Working
"60-80% of agents moved to work at home during 'shelter in place,' and ~30% will continue to stay home once there is a vaccine."
— Sheila McGee-Smith, Contact Center Industry Analyst.
There was no deliberating. It just got done.
"COVID-19 brought about a "perfect storm" that forced businesses to rethink their entire approach to their contact centers. What surprised me most is how quickly they responded. Contact centers that have been hesitating on technology upgrades for years transformed their operations in a matter of weeks because it was a matter of survival. "
— Travis Jones, Senior Vice President at Logic 2020
Many contact centers were miserably unprepared.
"I think that contact centers, in some cases, were not necessarily ready for what remote work would mean to them during the pandemic. Some businesses were ready for this and shifted seamlessly. Others found that clunky transfers and dropped calls were the norm."
— Tony Johnson, CX Leader, Author, Speaker Founder at Ignite Your Service
The pace of change was unrelenting.
"When looking back at it, we really only had about 10 days to get all the hundreds of our call center associates home. The speed that we had to operate to stay viable was pretty surprising. All the managers and executives that for years pushed back on moving to the cloud found themselves in a really tough place."
— Thomas Laird, CEO of Expivia
It wasn't easy — but you did it. And it worked.
"Organizations that had planned on years of eventual transformation were able to dedicate resources to do so in weeks. Creating digital ordering, delivering hybrid experiences, and revamping their org charts suddenly weren't obstacles; they were opportunities to better serve customers."
— Jeannie Walters, CX Expert, CEO of Experience Investigators, TEDx Speaker, Consultant
It's Hard to Deny the Benefits of Remote Working
"We saw many of our contact center customers taking advantage of the capabilities of their platforms, like callback options in the IVR, to improve their customer experience while addressing the increased volume load. Sometimes, external factors force us to challenge the status quo of how we've delivered the customer experience and run operations. These optimizations will continue long after the epidemic subsides."
— Matt Beatty, Executive Vice President of Sales & Marketing at Brightmetrics™
You can't just 'undo' prolonged systemic change.
"Many companies have been able to greatly streamline and optimize case routing, service calls, and even handle common service calls through virtual methods. That greatly reduces customer service costs and improves time to resolution, leading to better customer experiences."
— Flavio Martins, Snr. Product Manager, Author of Win the Customer, Customer Service Expert
"Offering employees the flexibility to work remotely long-term, as well as providing a safe environment for employees who wish to return to an office setting, will be a critical step for upper management next year. Team leaders will need quick and efficient ways of managing and motivating their distributed employees, requiring reliable analytics on agent and customer satisfaction."
— Matt Beaty, Executive Vice President of Sales & Marketing at Brightmetrics™

A virtual workforce is an advantage.
"One of the biggest benefits of remote agents is the ability to hire the best agents, not just those who are local and live within commuting distance of a call center. Employees can be located anywhere, allowing organizations to hire a more diverse workforce – a workforce based on skills and ability, rather than geographic location."
— Blair Pleasant, Contact Center Industry Analyst & Consultant at BCStrategies
Lockdown has created a whole new level of customer expectation.
If I had to pick one trend, it would have to be "immediacy,"; the need to be available to engage at whatever time and in whichever channel the customer chooses. This applies to both CX management and measurement. Digital is the key enabler of this for both bot and person-to-person interactions."
— Peter Lavers, Customer Service Consultant & Influencer at ThinkCX
And remote work is better for agents too.
"The move to remote work and a better quality of life for contact center workers is a big trend. When contact center employees can effectively and happily work from home, customers will reap those benefits."
— Evan Kirstel, B2B Tech & Marketing Consultant
Data Security is a Big Barrier, for Now
"For those businesses that have the basics down, the major focus areas into the near future must be on data, data quality, data access, data analytics, and systems integration in order to not only design and deliver a great customer experience but also to facilitate – and to realize the benefits of – a digital transformation."
— Annette Franz CEO of CXJourney, Official Forbes Coach, CX Consultant & Keynote Speaker, Board Chair of CXPA
Businesses are already know how to solve many data security problems.
"Home operations can be the weakest link in a data protection program. Automating processes with RPA and using alternate channels that reduce the volume of voice-first contacts will reduce the data protection risks and prepare the business for next-gen contact centers."
— Jill Reber, General Manager, Data Privacy at Logic 20/20
And they're ready to focus on doing Work from Home better long-term.
"The biggest trend will focus on doing WFH better. Remote training, QM, and making sure WFM is secure as you can be. Now is the time to be looking at our call center and asking: how do we evolve the work from home to make it easier, more secure, and efficient for the business and for our associates?"
— Thomas Laird, CEO of Expivia
"The Age of Virtual Contact Centers is here. The call center outsourcing market is booming with more and more agents being able to work from home."
— Wes Burger, Marketing Director, CloudTask
It's time to embrace the change.
"The lasting impact of COVID-19 will be a shift towards embracing technology solutions that remove friction in a customer's journey over hiring additional agents. Self-service channels, augmented by bio-authentication and automation software will take routine requests away, and let humans focus on the customer's issue rather than performing repetitive, time-consuming tasks. Additionally, AI-powered applications help the contact center staff work more efficiently by auto-transcribing and analyzing conversations to serve up contextual answers to help agents resolve a customer's request faster. So, the lasting impact is going to be a new bar of customer service that surpasses pre-COVID benchmarks, which is great news for customers!"
—Amit Unadkat, Manager – Digital Transformation, Logic 2020
"If 2020 has taught us anything, it's that people need human connection and clear communication. To achieve that within a remote or hybrid work environment, we're going to see more contact centers reach for cloud-based technology that drives camaraderie, allows supervisors to coach from anywhere, and enables agents to self-manage. The world has changed, and so should your technology. Get out there and explore."
— Paul Liljenquist, President of ClearView
And it may be about to change even more than you realize…
"The biggest trend in 2021 will be the ongoing shift of CX delivery toward a gig platform. The interest in gig working by both enterprise executives and potential employees is building to a crescendo. With platforms being developed to support this business model, watch for it to become the hot topic of customer management in 2021. It will also require operators to diversify their delivery platform across multiple points. The days of supporting a client from a single location are finished!"
— Peter Ryan, Contact Center Industry Expert & Senior Analyst at Ryan Strategic Advisory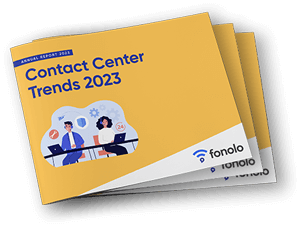 Trend Alert! Contact Center Industry Predictions for 2023
This report offers perspective on where the contact center industry stands today, plus our trend predictions for 2023.