We have believed for several years that the rise of the smart phone is driving the call center towards its next major leap forward.
More smartphones, more mobile apps
All the data we've seen continues to support this:
All this adds up to support the premise that more and more calls will originate from a smart phone via some form of click-to-call or tap-to-call approach. What does this mean for the call center?
The future of the call center is a visual interface
The smartphone is going to drive the next generation of call center experience and, most notably, will drive it towards a visual interface. To understand why,  consider the context of the customer when he calls in the call center. For the last decade a growing fraction of callers have been in front of a web browser when placing a call. (In talking with a large bank's retail group recently, we heard that a third of their callers are on the website when they place the call.)
Now combine that with the growing number of callers that are on a smartphone. The sum of those two will soon be, if not already, a majority of callers. And what's special about those two contexts? In both cases, the caller has an interactive visual interface at his disposal. That interface, if used properly, can vastly improve the calling experience while reducing the cost for the company. Fonolo makes it possible and, more importantly, easy for any company to do just that.
A tremendous opportunity for the call center
More than anything else, this is a big opportunity for companies with a call center. The incredible power in the smartphone can fix many of the frustrations that currently plague the calling experience: menu navigation, waiting on hold, data entry. But only if that power is used.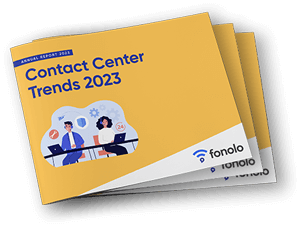 Trend Alert! Contact Center Industry Predictions for 2023
This report offers perspective on where the contact center industry stands today, plus our trend predictions for 2023.