When someone hears about what we're doing at Fonolo, they sometimes say: "Aren't the phone systems deliberately obtuse? I figured companies want to keep callers away from agents, because it saves money." It's true that a few companies are guilty of that, but only if they are very short-sighted. Companies that appreciate the negative of impact of poor customer service quickly realize that frustrating their callers is not a way to save money in the big picture.
Here's a great quote from Southwest Airlines:
We have plenty of self-service options on  Southwest.com, and we figure if someone's calling, it's because they want to speak to us.
– Lance Morton, Southwest Airlines' director of automation
resources for customer support and services
Steering the caller is fair, if done right
In the majority of cases, companies are making an honest effort to steer customers towards self-serve options, and that's fair for them to do. (A live agent conversation can be ten- or even a hundred-times more costly than a web transaction.) But often, the approach taken for this "steering" comes off as heavy-handed, and the end result is an angry caller. See Shai's recent post on eBay, "eBay scolded for long hold times".
Fonolo cures the zero-out problem
The problem is that the primary tool for directing callers is the IVR, which comes with a ton of negative baggage. Today's consumer simply dislikes dealing with phone menus and, no matter how carefully they are designed, a large percentage will continue zeroing out.
If zero-outs are a problem at your call center, we think Fonolo's visual navigation is a terrific solution and would love to talk to you.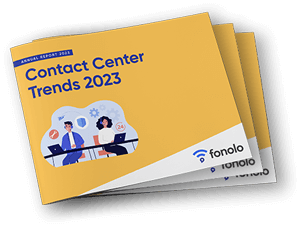 Trend Alert! Contact Center Industry Predictions for 2023
This report offers perspective on where the contact center industry stands today, plus our trend predictions for 2023.