We've all been that disgruntled customer at one point or another, where we find ourselves counting the endless minutes, and sometimes hours, of dreaded hold time. On the bright side, more and more organizations are realizing the growing need to fix this problem since their success relies so heavily on the customer experience. Companies and consumers alike know that long wait times negatively impact customer service and they're even starting to realize how to fix the issue – with a call-back solution.
The concept is called virtual queuing. Simply put, virtual queuing removes the pain of physically waiting on hold by holding your place in the queue, so that an agent can call you back when someone is actually free to chat. Ultimately, it eliminates hold time and there are a growing number of ways you can add it to your call center regardless of the channel – inbound call, website or mobile app.
In effort to educate you more on this term I've compiled the top 3 blogs discussing virtual queuing!
Callback, Virtual Queuing Are Changing the Customer Experience
This article illustrates how call-back systems and virtual queuing are rectifying the issue of long hold time. It also discusses the business case for implementing a virtual queuing program, which not only equates to happier and more loyal customers, but also resource savings on agent handle time and freed up phone lines. Mae concludes the article with this statement,
it all adds up to a new era for the call center, and one that finally will be in synch with the way customers actually live their lives – finally!
Virtual Queuing – the End of Music on Hold?

This article discusses a company that is actually using a virtual queuing solution. Jon also advises on the different vendors that offer these solutions to call centers. He points out that virtual queuing really is win-win technology; it makes contact centers more productive and addresses a major shortcoming of the end user experience – the problem of waiting on hold.
We'll Call You: Putting an End to On-Hold Misery
This article was featured on CRM Buyer and discusses how call-back software could permanently change the nature of customer and call center interactions. Contact centers not only benefit from happier customers, they also experience freed up infrastructure as agents are only handling calls that are currently active. Vivian explains,
while the percentage of call centers offering call-backs is still relatively small, it is likely to increase as customers come to expect the option.
Virtual queuing really is a win-win situation when you think of it. Consumers are much happier when they aren't placed on hold, and bottom-line results are delivered to businesses through cost reductions and customer loyalty. The idea of virtual queuing has been around for a long time, but Fonolo has revolutionized it by offering it as a cloud-based service. This means:
Faster deployment
Lower costs
Easier configuration
Better scalability
Try Fonolo's demo to see how virtual queuing works!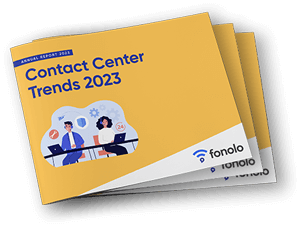 Trend Alert! Contact Center Industry Predictions for 2023
This report offers perspective on where the contact center industry stands today, plus our trend predictions for 2023.