Last week we published a list of top analysts covering the contact center space. Those folks are a terrific resource for following the rapidly evolving call center industry. Another great resource are LinkedIn Groups. The main advantage of groups is that they create an interactive community around debatable topics with like-minded professionals. The disadvantage is that you have to find the right groups to participate in.
There are a TON of groups. As of 2012 there were over 1.2 MILLION! How do you find the right one? For niche topics, LinkedIn's Group search function is perfect, but in the contact center industry a basic search returns hundreds of results.
How do you find the quality groups? Well, at Fonolo, we've been joining and un-joining groups for years, on that exact quest. Luckily for you, we're going to share our top 5. We judged them based on membership numbers, how active the discussions are, and how "on-topic" the discussions are (i.e. free of spam and promotions).
If you think we've forgotten any, please let us know in the comments.
The List 
---
Owner: Mike Bergelson
Members: 646
Synopsis: A forum for discussing opportunities and challenges related to dramatically improving the customer experience in a mobile-first world.
Trending Discussions:
---
Owner: Chad McDaniel
Members: 32,119
Synopsis: Worldwide industry experts in customer contact strategies including CRM, BPO, direct marketing, managed services and call center industries.
Trending Discussion:
---
Owner: Kevin Brown
Members: 6,798
Synopsis: Contact Centre Technology Experts allows experts to discuss emerging technologies and be kept up to date on exciting opportunities in this arena. Our members include experts in IVR, ACD, Routing, WFM, QM, Logging and call center analytics. Including employees of Genesys, Avaya, Cisco & others.
Trending Discussions: 
---
Owner: Daniel Chutich
Members: 20,000
Synopsis: Professional networking group for individuals actively involved in the Call Center Industry as a Strategic Leader, Operations Manager or Consultant.
Trending Discussions:
---
Owner: Shaun Belding

Members: 16,937
Synopsis: Customer Service Champions is a group of people who believe customer service is a core driver of all organizations. Share your ideas, concepts and principles. Let people know which organizations you believe excel in service and which are struggling.
Trending Discussions: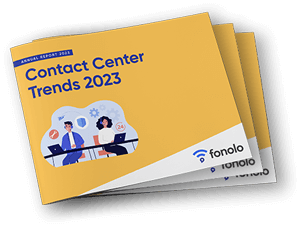 Trend Alert! Contact Center Industry Predictions for 2023
This report offers perspective on where the contact center industry stands today, plus our trend predictions for 2023.