The migration to the cloud is the most dramatic trend in the contact center industry today. According to DMG Consulting, the cloud market grew by some 224% from 2008 to 2012. Furthermore, they estimate that as of September 2013, more than 62% of organizations are using some type of cloud-based contact center solution as part of their operation.
Thinking about moving your call center to the cloud? Weighing the pros and cons? Trying to pick a vendor? Here are six great (and free!) resources we've put together from around the web.
Choosing a new call center is a big decision, so make sure you've done as much research as possible. You should also keep in mind general industry trends to give extra context to your decision. (For a great list of trends, download our whitepaper "Contact Center Trends" which was just updated for 2014.)
We at Fonolo do not sell a cloud-based call center (although our call-back solutions work wonderfully in conjunction with one!) so we're trying to present information about this topic in a neutral and balanced way. But many of the resources below are sponsored by vendors who are trying to promote their product, do keep that in mind when reviewing the information.
Analyst Report: DMG's Cloud-Based Contact Center Market Report
This is the report quoted in the intro to this blog post. It's available through a sponsorship by NewVoiceMedia and can be downloaded here, after filling out a form.
Industry Report: The Contact Center Decision Maker's Guide
This lengthy and thorough report (over 300 pages!) covers many aspects of the industry. It was sponsored by Avaya, Genesys, Interactive Intelligence and other companies that offer cloud-based call centers (as well as Fonolo). Below is a sample chart from the section on cloud migration (which starts on page 238). You can download it here.
eBook: How to Select a Cloud Contact Center Solution
This handy eBook from SafeSoft Solutions includes a list of features you should look for and questions you should ask as part of the selection process. You can download it here.
Whitepaper: The Move to Cloud-Based Call Centers
This whitepaper by ConnectFirst is a bit text-heavy but has some good background information regarding the impact on your infrastructure costs and security.
Article: The Cloud as the Great Equalizer for Small Contact Centers
This is a concise but well-written article from May 2013 by analyst Blair Pleasant. Blair was also featured on our list of "Top Analysts Covering Contact Center Technology".
Analyst Report: Frost & Sullivan
Analyst firm Frost & Sullivan has a long and distinguished history in this space. They host an annual call center event that is highly respected. Our most recent "Top Analysts" list includes one current member of their team, Nancy Jamison, as well as a former "frosty" Jon Arnold.
This report is a bit old (2010), but it's a very thorough explanation of how one should approach the decision of cloud vs. premise. It was sponsored by EchoPass (which is now part of Genesys) so you will have to fill out a form on their site. Download it here.
Below is a sample chart from the report.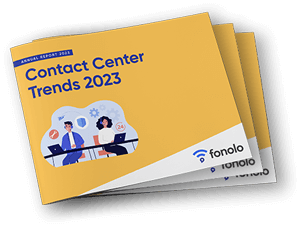 Trend Alert! Contact Center Industry Predictions for 2023
This report offers perspective on where the contact center industry stands today, plus our trend predictions for 2023.