In recent years, consumers have become much more demanding of a flawless customer service experience. Delivering such an experience has become vital to business success. A study from YouGov shows that 76% of respondents said, "just one unpleasant contact center experience was likely to make them take their business elsewhere".  According to Gartner, organizations that prioritize the customer experience generate 60% higher profits than their competitors.
Understanding all the factors that contribute to a positive customers experience is a daunting challenge. With so many vendors and so many different technologies out there, how can you find the right things to focus on?
Here are 7 videos from industry experts to help frame your thinking.
The Logic Behind Customer Obsession
Zappos is famous for their total obsession about customer service. Hear their CEO speak about where the passion comes from.
75% of our orders are from repeat customers. So our philosophy is take the money that would have gone to marketing and keep those people happy and coming back… We get 5000 calls a day… the telephone is one of the best branding devices out there… if you get that interaction right… they'll tell their friends and family.
Customer Experience and Profitability
This clip, appearing on MyCustomer, features Ed Thompson (one of our "Top CX Analysts") talking about the connection between customer experience and profitability.
10 years ago, I met my first VP customer experience and there's now 2100 of them…it's because of customer power and … Senior execs are running out of options of how to differentiate the business.
Being as Customer Centric as a Luxury Brand
In this video we see Stephen Cannon, President & CEO of Mercedes-Benz USA, speaking at Forrester's Customer Experience East Forum 2014 about a clever way they transformed their customer experience and set an all-time sales record in 2014.
70% of the people that work at our stores had never driven a Mercedes. So how could we get to them to articulate the passion? So we made a major investment in our human capital…
Customer Experience Doesn't Start When There is a Problem
George Shaheen, Former CEO of Siebel Systems, talks about the importance of self-service.
Customer service is the grand-daddy of differentiation… the cheapest customer to acquire, is the one you already have. The customer experience can not start when there is a problem.
What Drives Customer Loyalty?
Megan Burns, Principal Analyst at Forrester (and one of our "Top CX Analysts") talks about all the things that contribute to customer loyalty and how Forrester did ground-breaking analysis on this front, across 17 industries.
The core of customer experience quality is effectiveness, ease and emotion… if the experience has that, the customer gets value…walks away feeling happy…
The Importance of Customer Journey Mapping
This video comes from a workshop held by Oracle's London-based CX group. A group of employees involved on the "front line" of customer service got together to explore the realities of today's complicated multi-channel customer journey.
The main benefit of mapping the customer journey is that you get to see things from the customer's point of view.
The Six Laws of Customer Experience
This final video is a fun exploration of six "laws" that govern customer experience, according to Bruce Temkin (one of our "Top CX Analysts").
Employees do what is measured, incented and celebrated… the leadership team has to identify behaviors that align with customer values…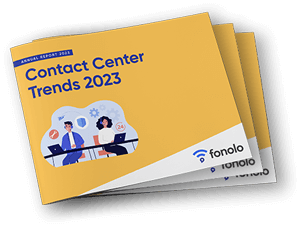 Trend Alert! Contact Center Industry Predictions for 2023
This report offers perspective on where the contact center industry stands today, plus our trend predictions for 2023.