Sixty-five percent of consumers admit to ending a relationship with a company over a single bad customer service experience, according to Parature's 2014 State of Multichannel Customer Service Survey. While customer service snafus happen in every business, most can be avoided, especially if you learn from the mistakes of others.
Here's how you can avoid four of the most common customer service disasters:
Provide Regular Training
Poor direct customer service is perhaps the most common way companies fail. Some typical customer service representative mistakes include asking customers to do too much on their own without assistance or transferring them from department to department looking for help. If your customer service department is guilty of these small mistakes, they can easily grow into far worse issues.
Training your employees to always put the customer's well-being and needs first is the obvious first step, but reviewing customer service interactions is a good way to catch this problem before it becomes a catastrophe. If there is a pattern of bad customer service on your front lines, it is time to retrain or rebuild your customer service department.
Address Security Concerns
Your customers trust you with some of their most sensitive data, and it's your responsibility as a business to protect that data at all costs. Data breaches can lead to the nightmare of having to explain to your customers that you failed to protect their credit card information or identities from cybercriminals.
Data breaches can be prevented by having solid data protection from a service provider like Mozy. The media has been paying increased attention to data breaches, and you don't want to be the focus of the next viral story. Worse, you could potentially end up in the same situation as Sony, who Polygon reports paid out $15 million dollars in a settlement regarding a data breach of the PlayStation Network that occurred in 2011. Save yourself the embarrassment and the potential lawsuits by having the best data protection you can.
Provide Realistic Expectations
When describing your product in advertising or marketing materials, it can be easy to get carried away. But making promises to customers that you can't keep will only leave them disappointed. If you are prone to hyperbole, it's important to take a step back and look at the promises you make about your services and products to see if you can live up to your own hype.
Upgrade Obsolete Systems
Sometimes, your ability to provide adequate customer service can be hampered by out-of-date systems. This is especially true of electronic data interchange (EDI) systems, such as those that send information from you to your credit card company when your customers make a purchase. According to Covalent Works, if you are receiving chargebacks from your customers frequently or your system is 10 years old, it may be time to upgrade.
Other systems that may require an overhaul include your customer service call center software and your phone systems. Don't let something as simple as an old phone ruin your customers' experiences with your company.
---
Guest Blogger: Kevin Flanagan
Kevin Flanagan is a freelance writer living in Phoenix, Arizona. He specializes in technical writing, business writing and entertainment. Kevin has been a featured speaker on a wide variety of topics at several events in the Phoenix metropolitan area, ranging from theater to historiography.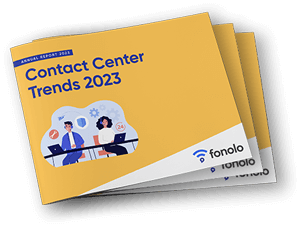 Trend Alert! Contact Center Industry Predictions for 2023
This report offers perspective on where the contact center industry stands today, plus our trend predictions for 2023.