Looking for the latest trends?
This paper was updated for the new decade. Read it here:
It's the time of the year again when savvy customer experience evangelists are looking to plan out their strategies for 2016. Separating your organization from the competition is no longer about price and features; rather, it's about providing a high-quality customer experience.
As you analyze your objectives for 2016, here are 10 key customer experience trends you should focus on.
1. The Omni-Channel Customer will Arrive with Force
According to Zendesk, 87% of customers think brands need to put more effort into providing a seamless experience. The risk of not properly servicing your omnichannel customer will continue to
grow: If a customer starts on one channel and doesn't get the issue resolved they will be forced to switch mediums. Then they will become increasingly exasperated when they find out that they have to start the conversation all over again – this is a complete fail.
Customer service departments must bring all channels together in a more integrated and consistent manner. Aberdeen states that companies with extremely strong omnichannel customer engagement retain, on average, 89% of their customers, compared to 33% for companies with weak omnichannel customer engagement. The bottom line: Don't miss the opportunity to exceed your customers' expectations.
Check out Aspect's Omni-Channel Challenge Infographic for a fun way of learning more about the growing demand.
2. The Customer Experience Requires Investment
If you went to the fanciest restaurant in town and everyone there treated you poorly, would you go back? It's highly unlikely. According to Deloitte, 62% of organizations view customer experience provided through contact centers as a competitive differentiator. And yet, businesses continue to seek customer loyalty, without investing in the experience. The landscape is changing and, by 2017, 50% of product investment projects will be redirected to customer experience innovations. So where should you start? According to a recent Gartner survey, organizations who implemented CX projects first focussed on improving the collection and analysis of customer feedback. This is a great way to adapt, change, and meet the needs of consumers.
3. Self Service Tools will be a Must-Have
50% of customers think it's important to solve product issues themselves and 70% expect a company's website to include a self-service application. You are responsible for understanding and acknowledging the needs of your customers – you want their interaction with your brand to be as smooth and pleasant as possible. This means you must always strive to deliver a flawless customer experience.
Self-service adoption will continue to increase year after year. In fact, Gartner predicts that by 2020, the customer will manage 85% of the relationship with an enterprise without interacting with a human. Be sure to take advantage of the customer service tools at your disposal to give your customers the direction they need to accomplish tasks themselves. You'll be amazed at how successful you can be when you put your mind to it.
4. The Mobile-First Customer Experience
Expect mobile customer service to soar in the next year. There are over 2 billion smartphones in use right now and, in developed countries, penetration is approaching 100%. This explains why 84% of CIOs at customer-centric companies focus on the mobile customer experience. Mobile apps have profound implications for the interactions between companies and their customers. According to a recent study, 77% of those ages 18 to 24 use mobile devices at least once per month for customer support.
Even though this trend has been obvious for several years, companies have been slow to adapt. 90% of consumers said they have had poor experiences seeking customer support on mobile, according to a survey by Software Advice. But as ComScore recently advertised, we are now past the tipping point as mobile users have surpassed desktop users. In fact, by 2016, mobile search will generate 27.8 billion more queries than desktop search.
Source: Morgan Stanley Research
5. Voice has Not Died
When it comes to customer service, there will always be a role for a live conversation with a company representative. Yes, the rise of self-service options decreases the number of interactions that need a live conversation (as the tools get better and consumers get more comfortable with them). But, there are always going to be cases where self-serve tools fall short. Meaning, the transactions that end up with a live agent are going to be more complicated and more likely to involve an upset customer.
Check out this recent report from Parature on channel preferences. As you can see, voice continues to take the lead amongst all channels.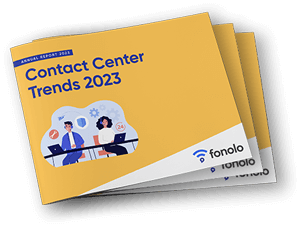 Trend Alert! Contact Center Industry Predictions for 2023
This report offers perspective on where the contact center industry stands today, plus our trend predictions for 2023.