[UPDATED May 5, 2016: Vonage just bought Nexmo for $230m. With Twilio still on an IPO trajectory, that leaves the big question: Who will buy Plivo?]
A decade ago, working with telecom resources was a daunting task. If you wanted to build anything that used voice or text messages over the public phone system (the PSTN) you would have to hire specialized engineers and expect to spend months in development.
That all changed with the emergence of a category of companies that have come to be known as "Communications Platform as a Service" of CPaaS. The existence of these companies has radically changed the landscape of enterprise communication and customer service. They have become embedded in a surprising range of services (such as Uber).
Industry giant Avaya is the latest company to join the fray with the announcement, last month, of their new service "Zang".
Some History
The first big wave of innovation came in the early 2000s, under the banner "Voice 2.0". The stars of this era are mostly forgotten to history: Jaxter, Jajah, Jangl (yes, there were a lot of "j" names for some reason), GrandCentral, Mobivox. This was the first time start-ups felt they could bring the experimental spirit of the web world to the voice world.
At the same time enterprise communications were waking up to this potential as well. On that side, the term used was the much more staid, "Communications Enabled Business Processes".
The innovation in this era was driven by the popularity of Asterisk (an open source PBX and voice routing engine) and the emergence of "termination providers", which allowed anyone to make calls to regular phone numbers at low per-minute prices. Basically the amount of engineering knowledge required to do basic telephony was dropped by an order of magnitude.
But the real explosion in innovation required that barrier to be dropped even further. That was the role of the CPaaS, which gave developers a "one-stop-shop" API that covered both telephony functions and termination. With developers completely insulated from the "messiness" of telecom, the universe of potential developers was expanded greatly.
The Players
Here is a brief synopsis of the top CPaaS players on the market today:
Tropo – One of the earliest CPaaS players was Voxeo, which started way-back in 1999. Their main business was acquired by Aspect in 2013, but they spun off Tropo as a dedicated CPaaS product which was acquired last year by Cisco.
Twilio – Twilio is the current market leader in the category and they are expected to file an IPO soon. By some estimates they have 80% of the market. They claim that more than 560,000 developers use the service.
Plivo – Plivo is a younger company, founded in 2011 and backed by Y-Combinator. It seems to be focusing on more global coverage and lower prices.
Nexmo – Nexmo started around the same time as Plivo. One of their differentiators is enabling communications through some of the messaging platforms like Messenger, WeChat, Line & Viber.
(Isn't it funny how names cluster around a pattern? In "Voice 2.0", everyone had to start with "J". Now, they all have to end in "O".)
The New Kid on the Block
Avaya announced "Zang" at Enterprise Connect in March. It is the result of their acquisition of Toronto-based Esna Communication in 2015 and will be operating as a wholly-owned subsidiary.
What motivated the move from Avaya? One answer is to keep up with their close rival Cisco, which now has Tropo in its portfolio. The bigger picture is that Avaya needs to align itself with today's buying process which has moved away from purchasing monolithic "UC" or "Contact Center" applications  and towards buying smaller pieces that can be mashed together quickly with other pieces from different vendors. This is an offshoot of the "consumerization of the enterprise".
Without a strong CPaaS play there is a risk that Avaya, Cisco and the other legacy vendors will be excluded from innovation that is happening in a "bottom-up" way. For example, some of the most interesting developments in the call center are around its integration with CRM systems typified by Salesforce's new "Lightning Voice". I talked about that in Salesforce has a Lot of Fingers in the Call Center Pie where one of my main points was the dominant role Twilio is playing in that ecosystem. Twilio also powers several of the other vendors who – to varying degrees – are going to end up competing with Lightning Voice.
A CPaaS Inside a Legacy Vendor = Extra Challenge
Legacy vendors like Avaya or Cisco have an advantage over the pure-play CPaaS companies in terms of name recognition and a broad customer base. But they have a disadvantage when it comes to fitting in with their business process.
The majority of Avaya's revenue comes from its vast channel network. Thousands of "Value-Added Resellers" and "System Integrators" around the world resell Avaya's products and make money by installing and maintaining the systems.
These deals follow a top-down model where the CIO or CTO makes a big-dollar commitment. What happens when you introduce a parallel bottom-up approach, where developers/managers in a company can buy small "as you need it" licenses and build from there? Friction will inevitably be created between those two models. These are tough waters to navigate and may be the reason that Avaya chose to make Zang a separate business entity rather than division within the company.
That is one aspect that sets Zang apart from the pack. That, and the fact that they have the only name that doesn't end in "O"!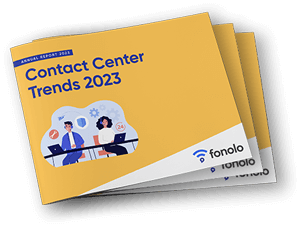 Trend Alert! Contact Center Industry Predictions for 2023
This report offers perspective on where the contact center industry stands today, plus our trend predictions for 2023.