It's that time of the year again! That's right folks, tradeshow season is upon us. What better way to start the action than by attending one of the best call center events for credit unions. The Credit Union Call Center Conference has been helping this space for the last 20 years! You can catch the event at Harrah's Hotel in Las Vegas, from October 17-19.
With members' needs constantly evolving, attendees will return to their organizations with practical tips, tools and inspiration to address the latest requests. This conference gives you a unique opportunity to network with other professionals in the industry and learn valuable leadership skills and best practices.
See Fonolo on the Exhibition Floor!
More people are choosing credit unions for their financial needs because of their dedication to the member experience. As a result – in an effort to maintain customer satisfaction levels (CSAT) – a growing number of credit unions have turned to Fonolo's call-back solutions allowing members to "press 1 for a call-back", eliminating the need for them to wait on hold.
Stop by the Fonolo booth and learn how our call-back solutions can help you lower abandon rates, smooth out volume spikes and improve the customer experience. Fonolo is also sponsoring the networking lunch on Monday, October 17th at 1:00 PM, so be sure to catch us there as well!
We were behind the curve in offering our members a call-back option. With this implementation, we feel like we are now on par with our competitors. Our members no longer have to wait on hold and can go about their daily lives knowing that we will call them back as soon as possible. – Ascend Federal Credit Union
The call center environment is completely improved and agent morale is up. We love the Fonolo portal as it allows us to share these stats with our agents. It completely alleviated stress because we know members are going to be happier, making it easier for our agents to do their jobs. – Credit Union of Colorado
For live updates and insights from the show – follow @fonolo on Twitter.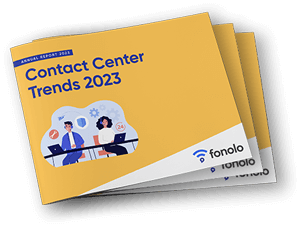 Trend Alert! Contact Center Industry Predictions for 2023
This report offers perspective on where the contact center industry stands today, plus our trend predictions for 2023.