Industry watchers are carefully assessing the progress of the Avaya bankruptcy, which is now 50 days old. (Fun tip: The number of days is easy to track because the bankruptcy happened the same day at the US presidential inauguration! So when the press makes a big deal about Trump's first 100 days, you'll know Avaya has been in Chapter 11 for 100 days too.)
The duration is important because as the bankruptcy continues, the patience of partners, analysts and customers wears down. Each day is also another opportunity for competitors to pick away at Avaya's customers. See, for example this "knives-out" post by InContact that tells Avaya customers to "keep moving forward, no matter how the bankruptcy is resolved."
Here's a quick look at some coverage of the bankruptcy so far.
How Long Will it Take?
A big question on everyone's mind is how long will the process take. Two recent cases provide alternate extremes. Aspect's successful bankruptcy last year is a positive comparison, one that even CEO Kevin Kennedy made in his announcement. But another comparison that folks are throwing around is Nortel's disastrous bankruptcy from 2008 that took over 7 years to resolve. Which model will Avaya follow? We tackled this question in Will Avaya's Chapter 11 Be Like Aspect's or Like Nortel's?
For a closer look at the mechanics of this process, the most detailed analysis I've seen is from NoJitter's Phil Edholm: Analyzing the Avaya Path Through Bankruptcy. He outlines a scenario where the process could go the "Nortel" route and be split into pieces:
…bond creditors … may conclude that they would be better served selling the assets and breaking Avaya into pieces…. the contact center business had been valued at more than $3.7 billion in the sale discussions prior to the bankruptcy. In fact, an EBITDA analysis of the total Avaya business shows that the business assets are worth somewhere between $6 billion and $7 billion based on projected EBITDA and assumed multiples. From this total, subtract $1.5 billion for unfunded pension liabilities, and the core continuation plan would need to return between $4.5 billion and $5.5 billion of value — a combination of debt, cash, or equity — to provide bondholders a necessary level of comfort. The bondholders will contrast an offer that is a mix of cash and equity against an all-cash break-up option.
The Sale to Extreme
The first big news of the bankruptcy process hit last week when it was announced that Extreme (NASDAQ: EXTR) bought Avaya's networking division for $100 million. Technically it's not a purchase, but rather a bid that sets a minimum price for an upcoming auction. But expectations are that Extreme will end up being the ultimate owner.
The networking division was the easiest to break out from the rest of the company. Analysts I've spoken to have long thought of that division as a distraction for Avaya, and preferred to see full energy expended on the call center and enterprise communications products.
Zeus Kerravala writes:
Customers should take comfort in the fact that Extreme is an enterprise pure play with a vision that's similar to Avaya Networking's — networks are too complicated and too manually intensive to meet the needs of a digital organization. Avaya has built its Fabric Connect technology on the concept of a transparent core in which a network administrator can make changes at the edge of a network for proliferation throughout the network rather than on a box-by-box basis… Both have a next-generation data center solution on the roadmap and without getting into details, I believe the market can support both based on vertical deployment and use case.
How Will the Product Line-Up Change?
Avaya has been criticized in the past for having a complicated product portfolio with a naming system that was difficult to understand. This reorganization may be a chance to streamline. Part of the refresh is a focus on APIs via the new "Breeze" platform. We covered that here: Avaya's Big Bet on Breeze.
Phil Edholm did a great analysis on this front: Avaya Positioning Its Portfolio for the Future.
While mining the installed base is the core of the current revenue stream, for every Avaya customer that replaces its system with Cisco or decides to deploy Skype for Business, Avaya needs to acquire a similar customer from another vendor. This is going to be a challenge. Over the last 10 years, the combined Avaya/Nortel installed base in North America has shrunk by 25% to 35%. Cisco leverages its strong position in networking to help drive VOIP, and Microsoft uses its desktop productivity dominance to promote Skype for Business adoption. Avaya does not have a similar adjacency to leverage. It has strong contact center share, but the ability to translate contact center position to winning in the UC space is not proven.
The Engage Conference Was Closely Watched
Avaya's annual customer conference ("Avaya Engage") happened last month and they were under a lot of scrutiny to deliver an upbeat vision for their future.
We covered the event here Avaya Did Good with their Spotlight Moment This Week:
Those bearish on Avaya usually point to the declining revenues as the most damning evidence. Kennedy briefly acknowledged this, saying "the revenue is what it is" then quickly pivoted to talk about more flattering metrics. (e.g. "Revenue per employee" which has been increasingly steadily, because they've shrunk their workforce dramatically.)…  So, how can you be bullish in the face of declining revenue? Because the whole pie is shrinking.
Analyst Dave Michels covered it as well with his usual flair:
It was a good event – unique in many ways. A confident, yet humble Avaya was on display. But, there was a cloud over Vegas and not the type that Avaya needs. Actually, it wasn't clouds overhead but vultures… [Avaya] is in the second stage of grief regarding their financial predicament – denial.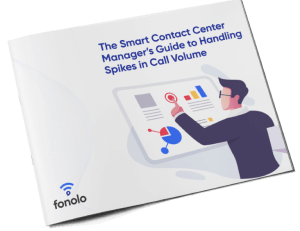 How to Manage Call Spikes in the Contact Center
Download this free guide to learn how to protect your contact center from call spikes.