Yesterday, Avaya took a big step towards their goal of creating their own open platform for developing communications solutions. Their "Engagement Development Platform"  has been operating for over a year, with some notable successes. By rebranding it to the catchier name "Breeze", and opening a marketplace for developer add-ons (aka "snap-ins"), Avaya is shifting it into high gear.
Tomorrow, Avaya SVP Gary Barnett, will give a keynote address at Enterprise Connect and, no doubt, will focus on this topic. This has been a passion of Gary's for a while (our coverage of their recent partner event) but it's for real now, folks!
Breeze is a big — and ambitious — bet for the company. As I'll explain below, it's much harder for a player like Avaya to adopt a platform strategy, compared to a start-up.
Today's Buyer is Different
The core concept behind Breeze is to break apart monolithic "UC" or "Contact Center" applications into small pieces that can be mashed together quickly with other pieces from Avaya or from other vendors. In a post last year, Zeus Kerravala (member of our Top Analysts list) called EDP Avaya's "secret weapon".
He also makes an important point about its target audience:
EDP is targeted not at network managers or communications professionals, but at software developers, business analysts, and ISVs to create unique, communications-enabled applications.
Recognizing, and adapting to, the changing buying behavior for Enterprise IT – especially in the mid-market – is extremely important. This is a subset of the "consumerization of the enterprise", which is the driving force behind phenomenons like Dropbox and Slack. Rather than starting with a requirements document, an RFP and then a procurement process, adoption begins at the bottom — by the folks closest to the problems — thus circumventing the traditional buying model.
The Platform Advantage
What makes this move important for Avaya? One clue is success other platforms, like Twilio, are having in the market. My post last week talked about the new "Lightning Voice" offering from Salesforce: Salesforce Has Many Fingers in the Call Center Pie and made the point that Twilio has maneuvered into a very advantageous position in that ecosystem. Lightning Voice (which "empower reps to connect with prospects faster with click-to-call, auto-logging of calls, and call forwarding to take calls from anywhere") is built on Twilio's platform.
Is this Salesforce's opening move in becoming a call center provider? If so, it's interesting to speculate what happens if call centers start being seen as just "front-ends" to CRM systems. Or maybe the future of the call center looks like cloud call center upstart TalkDesk — also built on Twilio! Either way, the company providing the communication platform wins.
So certainly executives at Avaya (along with Cisco, Genesys, and Aspect) are asking themselves: Why isn't our technology powering Lightning Voice, or these other new players? Without a platform play, those other legacy vendors are getting left out of this game. (This is partly why Cisco bought Tropo.)
Challenge #1: Channel Conflict
For Avaya, the challenge of launching EDP/Breeze goes beyond the technical issues.
The majority of their revenue comes from its vast channel network. Thousands of "Value Added Resellers" and "System Integrators" around the world resell Avaya's products and make money by installing and maintaining the systems.
These deals follow a top-down model where the CIO or CTO makes a big-dollar commitment. What happens when you introduce a parallel bottom-up approach, where developers / managers in a company can buy small "as you need it" licenses and build from there? Friction will inevitably be created between those two models. These are tough waters to navigate.
Challenge #2: Committing for the Long Haul
A second challenge for Avaya is the gaining developer trust. Twilio's CEO Jeff Lawson recently penned a great post last week about this:
"The problem with building or buying an API as a "strategy" is that strategies change, often rapidly. They shift with new leadership, they shift with corporate priorities, they shift with the breeze… When budgeting season comes around, guess which projects get the axe? Anything … that hasn't made a "needle moving" amount of profit…
APIs are a long commitment. Once you build them, they take time for developers to adopt and grow into revenue…You seed developers with ideas, you help them find use cases, and after developers build, you watch their apps go from prototypes, to betas, to production systems with happy customers. It requires patience and deep commitment…"
In other words, Avaya has to make developers and companies believe that it is a safe investment to build solutions on Breeze, and that the next C-level reshuffling won't "deprioritize" it.
Bottom Line
The introduction of Breeze is necessary and timely. Through Fonolo's great partnership with Avaya (Avaya resells Fonolo via their SPP program) I've had a front-row seat to the progress with EDP/Breeze. They have put in serious resources and internal effort to get it this far. Now that the "Snapp Store" is live, we will soon see whether Avaya can create a true developer community. It will take a committed leader with a long-view to stay the course, which is why I'll be paying close attention to Gary's keynote on Wednesday.
NOTES:
There's more great coverage of Breeze by Beth Shultz on NoJitter.
Thanks to Dave Michels for feedback on drafts of this post.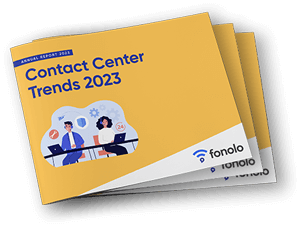 Trend Alert! Contact Center Industry Predictions for 2023
This report offers perspective on where the contact center industry stands today, plus our trend predictions for 2023.