Since the inception of the voice channel, businesses have faced and overcome many obstacles to improve the experience for customers.
Yet, this channel continues to be the bane of many customers' existence. Are businesses not sick of hearing the same complaints over and over again? Are consumers not tired of complaining about the same things? If your call center still makes customers cringe when they dial into support, it's time to take action. If you're a customer who assumes the experience will be a bad one, then you're setting yourself, and the call center up for failure.
The contact center must continue working towards perfecting the voice experience, and customers should not discount these efforts, because frankly we're all a little tired of hearing the following:
1. "The voice channel is dead."
People have been saying this for years. Yes, we know digital channels are growing in popularity, but the truth is that the voice channel is as important as ever. In Fonolo's latest white paper, "9 Critical Contact Center Trends for 2018," it's revealed that 18-24 year olds actually express an increased appreciation for the voice channel. So, if you think the efforts put into enhancing the voice channel are wasted, you should think again. And for those fact junkies who say digital will completely overthrow the voice channel, just ask consumers, they seem to disagree.
2. "The phone menu is outdated and confusing."
In many cases this is true. So, what are call centers waiting for? Updating the IVR, although tedious, should most definitely be a priority.
A word of caution: Don't change everything at once. Not every alteration will be successful, so it's best to gradually roll out any changes. By doing it this way you can pinpoint which changes are, and are not working.
3. "Hold music is repetitive and horrible."
There's more than one problem with this statement, but if you MUST place customers on hold, and the customer opts to wait for an agent, at least make the experience bearable. According to a number of tweets from onholdwith.com, Disney is often praised for its fun and "on-brand" hold music. Not every business has a strong brand identity like Disney, but think about who your customers are, and provide an appropriate selection. Some companies offer a number of genres since their clientele spans across multiple ages and cultures.
That music always gives me the happy chills. It's the best when on hold with Disney. lol

— Amanda (@Basic_Sass) November 23, 2017
4. "I'm always transferred to different agents/departments."
Not everyone picks the correct department from the IVR (which could be user error or poor navigation). Regardless, if a customer reaches the wrong department the first time, they should be transferred to the right one after explaining their issue to an agent, right? Not always.
If your agents are disengaged and burnt out, they won't think twice about passing off an issue, or sending a customer to the wrong department. It's important then to obtain customer feedback on the experience, which could provide intelligence into how their call was (mis)handled. If agents are passing the buck, it might be a good idea to reengage them with training and activities.
5. "I have to repeat my question over and over again."
If a customer has to repeat their issue over and over to different agents, you're showing complete disrespect for their time and patience. Customer service reps should be taking down notes as they attempt to resolve a problem, if it requires attention from another department or escalation of a supervisor, all their information should be passed along. It's not only a waste of the customer's time, but an ineffective use of handle time; a key metric that call centers measure success by.
6. "Every time I call; I get put on hold."
It's one of the top reasons why people hate calling into the call center. However, there are ways around this dreaded wait time. Businesses should have a call-back option to avoid keeping customers waiting on the line. Making customers wait on hold not only leaves them angry, it also encourages them to vent their displeasure publicly.
7. "Customer service reps just don't care about helping me."
The idea that customer service just doesn't care is a tired and frankly, a false, misconception about the industry. Oftentimes, customers go into an interaction feeling like the experience is less than ideal due to hold time or being passed around, etc. Once they do reach a live agent, they're already annoyed by the experience and place blame on the wrong person; the CSR. We've all been guilty of starting off an interaction angrily, meanwhile, the CSR actually does everything to help resolve the issue.
8. "I get disconnected when I reach an agent."
There's truly nothing more frustrating than patiently waiting on hold, only to reach an agent, and suddenly the call drops. *cue temper tantrum* Ideally, agents should ask a customer for a call-back number as soon as they connect, so that if the call drops at any point in the conversation they can try to reconnect with that customer. Presently, there are limited tools on the market for reconnecting dropped calls, so this is definitely an area for contact centers and technologists to consider improving.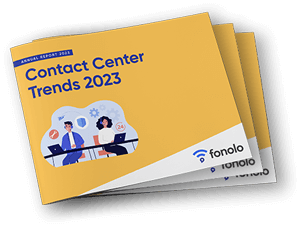 Trend Alert! Contact Center Industry Predictions for 2023
This report offers perspective on where the contact center industry stands today, plus our trend predictions for 2023.