Last week I wrote about the cloud-based call center gang. This week, let's look at the "legacy" gang. Yes, the term "legacy" is used in a negative way these days, but I don't mean it that way. I just want to group together companies that have been selling call centers for many years, compared to the relative new-comers. (If there's a nicer term, someone please let me know in the comments.)
As you would expect, the large call center vendors are jockeying for position fiercely. Avaya's recent bankruptcy created an opportunity for competitors to pounce. Meanwhile, they are all worried about the threat "from below", i.e. newer cloud-based competitors that started by focussing on small business, but are moving steadily up-market.
Staying Power
For all the attention we pay to the newer cloud-based alternatives, the majority of the calls are handled via on-premise equipment. Two reasons for this: 1) The replacement cycle for call centers is long, so it's going to take time for the cloud switch-over to rumble through the whole world; and 2) The largest call centers (e.g. banks, airlines, insurance companies) still prefer on-premise deployments. Those are few in number, but handle a disproportionate amount of calls.
According to DMG cloud-based contact centers accounted for only 11.4% of total seats in 2016, so we still have a long way to go. [Edit: I just read this interview with Avaya CEO Chirico where he says "the contact center industry is on the front end of the transformation to the cloud — maybe 10% of the way there." so I guess he's looking at the same data.]
Cisco vs. Avaya
Avaya held the title of largest contact center market share for a long time. But, according to recent data from Synergy, they've lost that lead. Cisco flirted with the top spot in Q4 of 2015, and then took a solid lead starting in Q4 of 2016. The lead grew substantially in 2017, no doubt a consequence of Avaya's bankruptcy. (Which we covered here and here.)

The poor showing by Genesys was slightly surprising. I would have expected them to benefit as much from Avaya's stumble as Cisco. Furthermore, their acquisition of Interactive Intelligence should have given them a real boost in market share. (Genesys does claim that it bagged nearly 250 companies migrating from Avaya legacy contact center in 2017… maybe those numbers haven't shown up yet in the Synergy data.)
It is striking to compare this chart and the one we looked at last week, which focused on cloud offerings only. There we can see Genesys being much more dominant. It's a good reminder not to extrapolate from what's happening in "cloud world" to the larger picture.
Another difference is the dominant role played by the Amazon and Twilio platforms in "cloud world", which was the explored in last week's post The Hidden Power Structure of Cloud Call Center Vendors.
Genesys Swipes at Avaya
If Genesys didn't capitalize on the Avaya bankruptcy, it wasn't for lack of trying. CEO Paul Segre wrote an unusually aggressive post in November lambasting Avaya. He cites their declining revenue stating: "Avaya has been in decline well before its bankruptcy and by its own projections will be in decline after it emerges from Chapter 11. Bankruptcy is not a one-off event but one phase of a long-term trend…"
Segre's also points out that Avaya is spending a declining percentage of revenue on R&D, saying they are "…playing catch up after years of underinvestment and, their customers have most certainly felt the impact." He asserts that Avaya will not be able "to keep up with this torrential pace of innovation… demanded by their customers and also by Boards that demand cost reduction through automation and smart customer engagement."
It's certainly true that Avaya has missed on some key trends, but Avaya still spent $227M on R&D in 2017 and that's not chump change. Furthermore, acquisition is another (faster) way to bring technology to market and Avaya has said they are now looking in that direction (plus they have the cash for it now).
Twilio Swipes at Avaya
Twilio has a page on their website explaining why Avaya customers should jump ship:
"You may feel tied down to your Avaya legacy backend for now… but you can still continue to move forward… Instead of operating by the rules of a legacy communications vendor struggling with bankruptcy and debt problems, start augmenting your systems with Twilio's APIs. There are a ton of improved customer experiences to be gained… Since you only pay for what you use, there's nothing for you to risk. Any costs you incur with Twilio will be a fraction of the expenditures spent in Avaya or another legacy system."
The thing about being in the lead is you take fire from all the others. It's a compliment, in a way.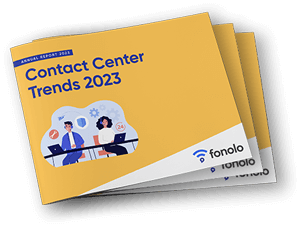 Trend Alert! Contact Center Industry Predictions for 2023
This report offers perspective on where the contact center industry stands today, plus our trend predictions for 2023.