BOO!
Now that I've got your attention (and, assuming you speak 'ghost'), allow me to continue: It's Halloween.
Nerd alert: I am a grown adult, but Halloween is my most cherished holiday. I also happen to work in the customer service and experience space so, for the past few weeks, I've (of course) been ruminating on how to bring both of these aspects of my life together in perfect, haunted harmony. Then, as I sifted through a page called OnHoldWith.com, one littered with customer complaint Tweets from thousands of social media users, an idea came at me like (to quote Meatloaf) a bat out of hell: It's time to get social this season.
As OnHoldWith.com demonstrates, and as customer service veterans can attest, social media is the modern soapbox upon which customers can dig in their heels and shout about sub-par or non-existent service to a far-reaching online audience. These digital digs can shake the foundations of a brand's image, which is a serious business. As a result, customer support on social channels has quickly become a priority for service-centric brands. This is the most hip customer service has ever been
But, being the eternal optimist, I like to see the sweet side of social media at times – it does indeed exist beyond online belligerence and bad news. As much as it can be a stressful topic of conversation for those toiling away in call centers and contact centers, social media can also signal fun and frivolity, particularly during this festive season. Read on and get ready to dress up; Halloween is only a few days away!
1. Snapchat Filter
Snapchat has infiltrated our culture at alarming rate, and served to make selfies an unshakable element in our digital day-to-day. The platform layers different designs on top of your own face, transforming it into something more silly, glamorous, creature-like, whimsical, or otherworldly (It's basically Jem and the Holograms for your face). The ability to see ourself(ies) transformed through filters has become a totally normal part of a mobile user's life, which makes it a socially-acceptable Halloween costume choice. Here are some tips on how to get festive and filter-fabulous in a cost-effective way. A few fake butterflies or flower petals can work magic for this easy-to-make get-up.
2. "Brand Evangelist"
If you work for any kind of retail or restaurant brand, your marketing team is definitely, constantly seeking out a highly-coveted "Brand Evangelist" to bolster your following and customer base. These influential folks are highly sought-after for their social footprints and digital brand power. If you fancy yourself a future social media superstar, try your hand at an influencer or brand evangelist costume. If you can believe it, Urban Outfitters has even released its own influencer Halloween costume set. Yes, really.
There's another way to be a brand evangelist this holiday season: Cover yourself from head to toe in your company's logo, and throw in a few pom-poms and a megaphone for good measure. The C-Suite will most definitely be impressed by your enthusiasm for your company's brand.
3. Group Costume: The Social Media Suite
Customer service departments and call centers are made up of teams of people who get the job done and build meaningful peer relationships while doing it. Halloween offers the perfect opportunity to shout proudly about this teamwork in a festive way, via a clever group costume. Since social media is the name of the game in customer service these days, why not pay an homage to some of the major social platforms? Facebook, Twitter, LinkedIn, Instagram, YouTube, WhatsApp and many more apps have easy-to-recreate logos that will give your group costume some color pop (and certainly a few likes).
4. Instagram Post
Now a staple at weddings and corporate events, creating an Instagram post costume is a dream for those with even the most limited arts and crafts abilities. This incredibly simple, affordable costume is made simply by cutting the center out of a Bristol board, affixing the Instagram lettering to the top, and writing out your own handles and hashtags. An added bonus? It's interactive: Pass it around to your contact center colleagues and let them experience the joy of your costume while snapping their own Instagram photos along the way. More detailed instructions for realizing this costume dream can be found here.
5. The Ghost of Google+
If you're a savvy social media user, chances are you heard of the recent demise of Google+, the brand's answer to Facebook that never really picked up steam in the online space. The timing seems perfect: Take this opportunity to pay homage to this lost soul of social media with a Ghost of Google+ costume. Putting this together is as simple as pairing a dollar-store ghost mask with a hand-made Google-branded t-shirt.
But be warned: One of the hazards of this costume? Your contact center colleagues will be asking you questions all day.
Whatever the costume, remember to embrace this whimsical holiday as an uplifting moment in the year of your call center. Take the time to engage with your colleagues, admire their costumes, enjoy some treats, and revel in even a small break in your otherwise hectic day. You've earned it. From us at Fonolo to you, have a Happy Halloween in 2018.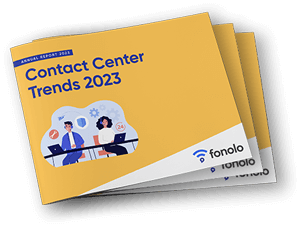 Trend Alert! Contact Center Industry Predictions for 2023
This report offers perspective on where the contact center industry stands today, plus our trend predictions for 2023.