2018 has been a pivotal year for customer experience (CX). Industry-wide, there is now a deeper understanding of CX as a multi-faceted, complex, incredibly important piece in the success (or failure) of any brand.
With this in mind, we've rounded up the most important and fascinating CX predictions for 2019 and provided our own thoughts on what they mean and how they will impact businesses in the future. To stay at the top of your game in the year ahead, it's essential to understand larger CX trends and how they are shaping our world and our industry. Read on as we detail five fascinating CX predictions to inform your 2019 CX strategy.
United Airlines' decision to forcibly eject a customer from an overbooked flight had all of the makings of a PR disaster. The cost of this mishap? A fall in the value of United's shares that wiped $1.4 billion from the company's $21 billion market capitalization. The lesson? Customer experience matters, a lot.
2018 officially kicked-off the race to own CX: 89% percent of companies now compete on the basis of customer experience compared to 36% in 2010. This is no surprise: Companies now understand that 'brand' is more than a Don Draper-Esque creative vision. Rather, companies that invest in customer experience have the opportunity to disrupt a competitor or gain market share in an industry.
It's common wisdom in sales that the more you know about the person you're selling to, the more you're able to tailor your offer to their circumstances, and the higher a chance you have of being successful. In this instance, AI will not replace salespeople but support them in their daily activities: The technology could ask questions like, "Is today a good day to call company x?", or provide personality insights that help improve communication with prospects.
25 percent of customer service operations will use virtual customer assistants by 2020.
This number is expected to increase from less than two percent in 2017. This trend is underpinned by vast improvements in natural-language processing, machine learning, and intent-matching capabilities. As capabilities of these chatbots grow, the expectation is that they will enrich the customer experience; help the customer throughout the interaction; and process transactions on behalf of the customer.
By 2019, 20 percent of brands will abandon their mobile apps.
There are many reasons that one in five brands are considering abandoning their mobile apps. This is likely because a number of brands did not understand the cost of getting people to engage with their app, and were caught up in the initial wave of "appiness".
The prediction is that brands will instead build their presence in consumer messaging apps (such as Facebook Messenger and WeChat) to reach customers in mobile spaces; after all, this is where they spend a good majority of their time. Given that 60 percent of consumers believe businesses should be available and responsive via messaging apps, this trend makes sense.
Online communities can be a powerful resource for companies, as they allow customers to exchange ideas and best practices, and have a say in product features. Facilitating networking among customers is a great way to increase brand loyalty and help turn customers into advocates.
For an organization to successfully implement a CX strategy, regularly assessing and evaluating prevailing trends should be commonplace. The core tenet behind CX is that you are making your customers' lives easier and better. This in turn can transform your business.
That's a prediction we are happy to bet on.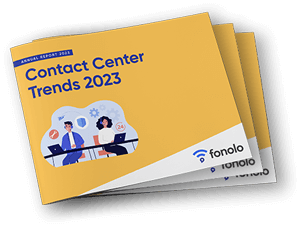 Trend Alert! Contact Center Industry Predictions for 2023
This report offers perspective on where the contact center industry stands today, plus our trend predictions for 2023.