Customer service is often not seen as the effective marketing tool that it is. It's no surprise: on the surface, the two departments and their goals seem distinct from one another: Marketing is all about customer acquisition (or, attracting new customers), while customer service is all about customer retention.
And yet, limiting customer service's definition to that superficial definition ignores a big part of its potential. If you scratch beneath the surface, it becomes apparent that these two seemingly separate functions have significant overlap. The bottom line is this: Providing excellent customer service isn't just a matter of answering customer's questions and solving their problems. It should also be a key part of an organization's marketing strategy
This is because customer service and marketing should have a symbiotic relationship, one that takes advantage of the aforementioned overlap. Keeping this in mind will help you improve your customer retention and acquisition simultaneously.
So, how exactly does custom service feed into marketing?
1. Increasing Customer Engagement
Trends in advertising and brand loyalty are constantly evolving. However, fostering customer engagement has remained a top priority for businesses. High-functioning customer service teams help companies connect with their customers and foster a sense of community. This an effective marketing tool as it allows you to build both brand loyalty and improve the brand image at once.
lululemon's Guest Education Centre is a notable example of a brand showcasing its customer service offerings as a benefit of buying from them. The Guest Education Centre is a call center that focuses on "product education" rather than sales. This means that if you don't live by a lululemon store and have a question about garment care or an issue with a product, you can give them a call. This helps the athletic clothing company strategically build relationships with customers, setting them apart from other retailers in the space.
2. Providing Content Ideas
Your marketing team is always looking for new content creation ideas. As the front-line touch points who are in constant communication with customers, the customer service team is an untapped goldmine of content marketing ideas. If your company is wowing customers via its support and experience efforts, the marketing team can source these real-life customer service examples and successes for use in their content. After all, people are influenced by people. If you can show your network how much your existing customers trust you and enjoy buying from you, you increase the chances of convincing others in the sales funnel.
3. Creating Buzz with Brilliant Customer Service
There are a number of examples of company's that have garnered positive press by going the extra mile. The benefit of this is that you don't have to spend a lot of extra money to create an unforgettable, potentially viral experience.
For example, Zappos gained positive exposure through a sympathetic gesture towards a grieving customer. Zaz Lamarr meant to return some shoes to Zappos, but her mother passed away and, naturally, she didn't have the time nor mental space to do so. Zappos arranged to have UPS come and pick up the shoes, and also sent her flowers and a card. There are countless articles about this gesture, and the goodwill it generated for Zappos is arguably priceless.
Zappos is a great example of a company that has built a brand with world-class customer service. The mega-brand hit $1 billion in annual sales in 2008 and was sold to Amazon for $940 million in 2009. For most of its formative years, Zappos had minimal advertising, and the company grew mainly by word-of-mouth, and from the business of repeat customers. There is no big secret here. Zappos became Zappos because of the exquisite customer support it offered.
Customer service and marketing are mutually beneficial strategies, with a potentially reciprocal relationship. When a brand has achieved this reciprocity between the two departments, the results can be a game changer.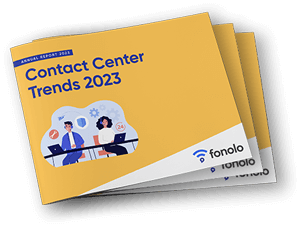 Trend Alert! Contact Center Industry Predictions for 2023
This report offers perspective on where the contact center industry stands today, plus our trend predictions for 2023.