Picture it: A young American family booking a flight to a city in another country via Air Canada. Imagine them having to wait for more than 20 minutes before a customer service agent gets on the phone, only to then be transferred to another department.
Picture this, too: Imagine trying to get a flight changed at the last minute and waiting on hold for more than 50 minutes until you finally get through.
And, imagine this: You receive a gift card for Christmas and it doesn't work, so you have to wait for customer service to get back to you. And in this scenario, it feels like that takes days.
These three situations have all been experienced by people just like you and I looking to connect with Air Canada customer service professionals to either book flights, change flight times, or simply access information about travel requirements and needs. According to onholdwith.com, a community-driven website aiming to end hold time for good, website Air Canada is among the most notorious hold time offenders. In addition, data from the website shows a real-time view of Twitter complaints for Canada and research shows more than 119 complaints in just the last week alone.
During peaks in call volume, it becomes increasingly challenging for customers to have their voices heard and their problems solved quickly and efficiently. Quite the opposite often happens: Customers are placed in an on-hold purgatory, sometimes for hours — which causes a surge in impatience. Putting customers with complex cases on hold for eternity is a weak customer experience move. It exposes a frail part of a call center infrastructure; and it may stunt a potentially good future relationship with the customer reaching out for help.
To be fair: Working with what it has, Air Canada customer service operations try their best to respond. But when weather-related issues arise, or a cancellation occurs, call volumes escalate to extremely high levels, leaving customers blowing in the wind as they try to obtain information that is critical to their travel plans. Not getting that information in a timely and convenient manner has crippled the airline's reputation for customer service.
But you have to do what you have to do, especially when your flight time is quickly approaching. So, we took a stab at it. We called Air Canada to book a flight, and gain some insight into their notoriety.
Here's what we learned.
Music
Boy, it's dreadful. It's the standard stock music that repeats itself every 20 to 30 seconds. After a while — maybe two to three minutes — the music changes to another drab dirge that just drones, "I'll be on the phone forever." Every couple of minutes, the music changes to another song that lasts about three minutes in length — the same piano, the same riff, the same run-of-the-mill instrumental pattern. It's occasionally interrupted by an automated message about Air Canada's policies. The only problem with that abrupt interruption is it that it restarts the same old boring tune for us to endure once more! Oh, the horror. After 10 minutes, the music gets slower, sleepier. It's almost cringe-worthy at this point.
Options
On the call, Air Canada immediately depressed us with the information that weather-related events have "led to longer than usual wait times." Due to this sad circumstance, were being placed on hold for "22 to 32" minutes. We sat back in our seats and began preparing for the long haul. At the very least, Air Canada gives us the option to be placed in priority sequence and be called back at which time a customer service agent can call you back. Still, it's not guaranteed. It becomes clear that if you're looking to get a hold of them on the day of the flight, you're going to have a very difficult time.
Promotions and Sales
While you're on hold, an automated customer service voice broadcasts the airline's deals for different flights. At the time of us calling in, the deals were for flights to Florida, Mexico, or New York.
Thanks, but no thanks! I'm just trying to get to Jamaica on time! Where … is … the … agent?
After another five minutes, here comes a deal for a flight to Austria. I wonder, will Arnold Schwarzenegger be there to receive me? I doubt it. But when you're put on hold this long, your mind starts to wander to these kinds of questions.
Again, Air Canada: Thanks, but no thanks.
The Result
We reached Air Canada after 27 minutes of being on hold, and they were able to help with our issue. But the agony of waiting for a customer service agent over the phone makes you wonder a) why their current call-back solution isn't more efficient; and b) why their services can't be streamlined to a more effective online service or method of customer service like an online chat system. Whether it's to rebook a flight, make a reservations, or find out basic information about your trip, the dial-in service isn't really effective. According to a recent study from customer service consultant Conversocial, Air Canada has some of the lowest response percentages and slower times among North American carriers when faced with customer service concerns expressed on social media platforms like Twitter and Facebook.
While polite, their customer service reps are usually handcuffed to the technology Air Canada has in place for them.
Among 10 North American airlines in the survey, Air Canada was last, at 10.3 per cent.
There's room to grow.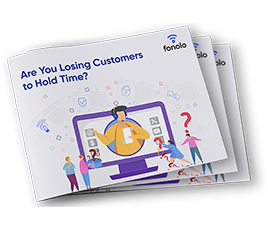 Are You Losing Customers to Hold Time?
Download our free whitepaper and learn about the best way to eliminate hold time and improve the customer experience.