Open enrollment is one of the busiest and most stressful times of the year for healthcare insurance providers and consumers.
In fact, many healthcare insurers start planning for open enrollment the minute the last season has come to a close. This is good thinking, as no company wants to find themselves getting ready only a few weeks before November 1st.
Regardless, one of the main challenges during this time period is communication, with the cumulative call center volume in the federal marketplace totaling more than 14,569,000 in 2016 alone, according to the Centers for Medicare & Medical Services.
When is Open Enrolment?
According to healthcare.gov, open Enrollment for 2021 runs from November 1 through December 15, 2020.
Outside the Open Enrollment Period, you can usually enroll in a health insurance plan, if you qualify for a Special Enrollment Period. You're eligible for a Special Enrolment Period if you have certain life events, like getting married, having a baby, or losing other health coverage.
Job-based plans may have different Open Enrollment Periods, so you will need to check with your employer. You can apply and enroll in Medicaid or the Children's Health Insurance Program (CHIP) any time of year.
Why Do Call Centers Get Busy During Open Enrolment?
Customers are likely to be overwhelmed by the amount of information they need to sift through to decide their healthcare coverage. They are bound to have questions for call center agents.
The sheer volume of people in this situation leads to massive spikes in call volume for most healthcare and insurance call centers. And the nature of the inqurires mean that average handle time is longer than it would be in most retail or service situations. Contact center agents in health care and insurance must take the time to explain things clearly and get all the details correct. These things can't be rushed.
How can your call center improve customer interactions during the most important time of year for healthcare choices?
Prepare Your Call Center Early
Depending on which states your contact center serves, open enrolment surges could last from mid-October to late February. Most enrolment closes by January 31st but there are always people who call after the deadline or who have follow-up questions about their new plan.
Optimize Your Self-Service Channels
Digital-savvy customers don't want to waste time and energy calling agents when their answers can just as easily be found using self-service. Employing self-service options for customer interactions, like making sure your website clearly identifies in-network providers, will remove an unnecessary burden on agents while keeping customers happy.
Hire Extra Call Center Agents
One of the most important issues for call centers during open enrollment is getting their staffing levels right. During open enrollment, call centers typically have the biggest total staff on board and new staff joining their teams. In 2015, a 40% increase in new call center employees brought on-board to deal with the expected onslaught of healthcare insurance signups during this time period. Make sure you get your job postings live at least a couple of months before to get new employees up to speed before the calls start flooding in.
Prepare to Outsource Overflow
Outsourcing is expensive and never the ideal situation. But it is a solution. If you haven't investigated other options that may be cheaper and more effective (see below) then outsourcing some of the simpler inquiries could be an option.
Offer a Call-Back
Call-backs the most cost-efficient and customer-friendly solution for deflecting calls during surges. During busy periods, you offer callers the chance to receive a call-back instead of waiting on hold — which customers hate.
Get Frequent Feedback
Find times throughout the week to get feedback from your team on the inquiries they're handling. This will help you uncover the challenges they're facing, and diffuse crunchy solutions amongst your team.
Add Web Call-Backs to your Website
Adding Web Call-Backs (formerly Visual IVR) to your website is another way to help deflect callers to less busy times.
This works because you control the times customers can receive a call-back. You simply set them to times you know are less busy, giving customers a concierge service and reducing the pressure on your phone lines.
Train Your Agents 
Many call centers hire additional temporary staff to deal with open enrollment. Healthcare.gov increased its staffing levels by 40%. Even the highest quality agents will need training and time to get up-to-speed and effectively handle their work during peak times. You can help them by
Reviewing your call center scripts and knowledge base articles
Requiring all staff to get a refresher course on open-enrollment processes
Pairing new agents up with experienced ones to help them through
Reviewing your technology to make sure it won't buckle under the pressure
Check your data security certificates and software are updated
While November may trigger holiday shopping for most, for healthcare insurers, it signals the stress of open enrollment.
Don't get left behind.
Find out more about how call-backs can take the stress out of open enrolments season here.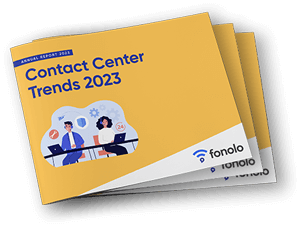 Trend Alert! Contact Center Industry Predictions for 2023
This report offers perspective on where the contact center industry stands today, plus our trend predictions for 2023.