Your airline has updated your flight details, shortening an already tight connection time. After being on hold for 45 minutes, you spend a slow afternoon going back and forth with an agent before you are finally booked on another flight. Just as you're about to hang up, the agent asks, "By the way, would you like to upgrade to our Premium Economy for only $70 more?"
You decline and make a mental note to never fly with that airline again.
Often customer service leaders believe that with a few simple moves, they can transform their customer service department from a cost center into a profit center. It's just a matter of encouraging service reps to push your products or services aggressively. The problem is that, as the above example illustrates, this often comes across as clumsy, or worse still, tactless.
That is not to say that cross-selling or upselling isn't a huge opportunity for your company. It just requires you to carefully train your agents on how to tactfully spot opportunities and subsequently act on them. This ensures that your customers can choose from the full range of products and services you offer, and, if done correctly, it can actually enhance the service your team provides.
Are you unsure of where to begin? Let's take a look at three techniques and tips your customer service agents can use to drive upsells and cross-sell while on the front lines.
Don't Let your Agents get Sidetracked
Your agents must solve the problem at hand before uttering a word about other products or services. The reasoning for this is twofold. Firstly, it helps build trust, and people are more likely to buy from people they trust. Secondly, it helps agents better understand and identify with the customer's needs. In turn, this allows your agents to offer helpful solutions and address anticipated issues before they happen. You never want customers to say, "I didn't know you offered x product."
If you intend to make as much money from your customers as possible, this will shine through. Not only will your customers dislike this approach, but it will also end up doing more harm in the long-term. If you intend to ensure that your customers have everything that they need, your customer will be filled with thanks and gratitude.
Work with Agents to Identify and Define Sales Opportunities
An agent abruptly pitching products or services provides for jarring customer experience. Knowing when to delay or even skip a sales pitch altogether is critical. It goes without saying that frustrated callers or anyone who is complaining should not be considered for your agent's sales pitch.
Train your reps to listen for clues for possible upsells and cross-sells. For example, if a customer has recently purchased a laptop and mentions they spilled coffee on their previous one, a possible cross-sell is an extended warranty.  For example, you can provide your agents with a list of "trigger phrases" or keywords that indicate a caller is a right candidate for a particular product.
Focus on Providing Value
When upselling or cross-selling, it's essential to be able to demonstrate value to the customer. If your agents have solved the customer's initial problem, understood their needs, and identified an opportunity, it's time to make the pitch. Rather than stating features or benefits in isolation, it's vital that your team can connect your customer's needs and one or two interests.
For example, an agent at a car rental company could simply say, "This car will help you save money." How specific is that? What does it mean to the customer? It's too intangible. On the other hand, if they say, "Since you mentioned that you will be doing a lot of driving, this car is much more fuel-efficient, and should save you money at the pump." The more specific your benefit statement, the more likely your agents are to make the sale.
Customer service agents are customer service-focused, and they should be. This can make the idea of upselling or cross-selling seem awkward to them. After all, they don't want to seem pushy or rude. If you think of these opportunities as merely an extension of the world-class service you are already providing, it makes it much more palatable. In fact, you'll likely receive very positive feedback.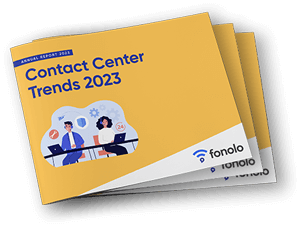 Trend Alert! Contact Center Industry Predictions for 2023
This report offers perspective on where the contact center industry stands today, plus our trend predictions for 2023.