Today's consumer is busier than ever. Digital technology hasn't just made instant communication possible, consumers have come to expect it. This new but rapidly proliferating expectation of 'always-on' customer service and support — particularly from tech companies — has businesses scrambling to find ways to meet it.
Artificially intelligent automation could help provide this level of customer support, as long as it's executed well. If there's one thing for sure, the companies that find a way to deliver quality support to their customers 24/7 will reap the benefits. 
Technology Has Cut Our Time and Patience
It's hard to imagine a time when you had to physically post a letter to get anything done.
As technology has brought us all closer together digitally, it has also changed our expectations. According to a 2019 survey by Arise, more than 65% of people would only wait on hold two minutes or less, with about 13% of respondents saying they're not willing to wait on hold at all, and slightly more saying they wouldn't even call customer service because they think it'll take too long to get answered.
Compare that to an AMEX study in 2014 that found the maximum time customers were willing to wait was 13 minutes and you can see people are becoming progressively less patient.
Put simply, now that consumers are aware that the technology exists to prevent long wait times, they're far less likely to be understanding when a business isn't using that solution.
The Rise of 'Always-On' Customer Service
Compounding the issue is the growing trend towards 'always-on, omnichannel' support. Not only do consumers expect to be able to get through to customer service departments quickly, they expect to be able to do it whenever they want, in whatever format they choose. And the majority of adults feel that valuing their time is the most important thing a company can do to provide them with good customer service.
To facilitate this, more and more businesses are looking to provide better, 24/7 support across multiple channels; but finding the right kind of people to fill the seats in their 'omnichannel experience hubs' is becoming increasingly difficult. And that's where AI automation comes in.
AI Automation to Fill the Gap
If you haven't heard of AI in the last couple of years, you might want to check that your contact center hasn't fallen under a rock. The many — but sometimes overstated — benefits of artificially intelligent automation are plain. So much so that Salesforce predicts a 143% increase in the use of AI in the call center over the next 24 months.
Whether that's with smarter self-service options like chatbots and Web Call-Backs (formerly Visual IVR), or with better decision-making tools to help agents get to the right solution faster, companies are relying on AI and smart automation to fill the gap. And let's be clear about this: human agents won't be replaced by AI.
Even if the technology was good enough (and it's far from it), companies are finding that this type of tech is more effective when used in tandem with a human workforce. Not robots, but 'co-bots', With the AI there to handle the rote, data gathering and filtering tasks, human agents are freed up to deal with inquiries faster and more comprehensively, ultimately making better use of their time too.
Adapt to Consumer Expectations or Die
The truth is that the rapid technological change in the last decade has brought about rapid changes in the way we communicate, between ourselves and the businesses we buy from.
Companies that have let consumer expectations guide them in their utilization of new channels and technology have always emerged the victors; Jeff Bezos listened to what his customers wanted and ensured Amazon did the same; as a result, they've led the pack in these early internet days — and is now arguably the most valuable company in the world. Not only that, it's one of the fastest companies to reach $1 bn revenue, and the fastest company to reach $1 trillion value, in a little over 25 years.
In the interim they've laid waste to numerous competitors that didn't make things easier, faster, more convenient for consumers; Borders, HMV, Tower Records, Sears, Target, the list goes on and on. These companies shouldn't be viewed as Amazon victims, but rather victims of their own inability to adapt to consumer expectations.
One meta-trend of the last couple of decades has been the increasingly short attention span and shorter patience of consumers. However you decide to do it, we would recommend you take heed of this important trend in call centers and equip your call center with technology to prevent your customers from waiting too long. Or be prepared to lose them!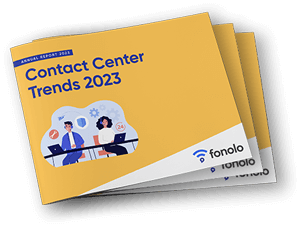 Trend Alert! Contact Center Industry Predictions for 2023
This report offers perspective on where the contact center industry stands today, plus our trend predictions for 2023.