Can we all agree that being stuck on hold with a company is one of the most frustrating experiences? 
Despite this shared sentiment, hold time is still a standard practice in customer service. So, businesses worldwide experienced a rude awakening last March when the COVID-19 pandemic struck, causing overwhelming call volumes and incredibly long queues for panicking customers.
Businesses that were unprepared for the onslaught of queries buckled under the pressure, and their customers were left without a lifeline. Unsurprisingly, many took their frustrations to social media.
Fonolo created #OnHoldWith to spotlight customer woes and end hold time forever. Because the last thing we need in a global emergency is terrible customer support. We compiled a list of the businesses with the most #OnHoldWith complaints via Twitter from March to August 2020. 
#10. Travelocity
So tired of this shit @travelocity
Been on hold for an hour and a half ?
Sure wish customer service would be helpful pic.twitter.com/6qGomGoLkg

— Salty McSalty (@Besitos_Anna) May 18, 2020
When your customer service is unhelpful, you know you have a problem.
@TravelocityHelp please help I've been trying to figure this out for hours and now I've been on hold for hours. I just want to redeem my airline credit. Please I'm literally going insane

— Cassidy Lavin (@laughinlavin) September 23, 2020
A simple issue has turned into a test of patience. We feel your pain!
#9. American Express
@AskAmex Just been on hold for 25 minutes waiting for @AmexNL customer service to answer my call. Seems a bit long, does #AMEX do call backs?

— Alexander de Jong (@alexanderdejong) September 7, 2020
Good shout, Alexander — we're a big fan of call-backs too!
@AskAmex I've been on hold with a customer service rep for going on 30 minutes. Is this the type of service that you offer to your customers?

— Lisa Chang (@lisachangny) August 3, 2020
Well, is it?
#8. T-Mobile
LMFAO I'M ON HOLD WITH A T-MOBILE REPRESENTATIVE & THEY'RE PLAYING HEAVY DIRTY SOUL. I'M SCREAMING??????

— riss? (@joshdunsdrums) September 18, 2020
At least they have a sense of humor about the situation!
on hold with t-mobile and they keep reminding me that t-mobile customers are the happiest customers and i'm about to spit fire

— Brosephine Wires (@JoParkerBear) September 8, 2020
??????
#7. United Airlines
Hey @united is there an email address for customer service? I can't stay on hold for hours. Thanks

— Christopher (@ChrisAboud) April 6, 2020
He makes a solid point here, United.
currently on hold with a @united support agent because they're on hold with *another* support agent to confirm my booking details ?

— Lan (@lanpaje) September 18, 2020
Hold time within hold time… didn't Leo star in this movie?
#6. Virgin Media
@virginmedia been on hold with one of your customer service agents for 45 minutes now hope she is alright

— nathan (@small1808) September 25, 2020
When your customer is more concerned about the agent's absence…
@virginmedia on hold for over an hour what sort of operation are you running?

— Graham Chapman (@grrooves) September 19, 2020
A questionable one, at best.
#5. AT&T
Nothing like multitasking. I've been on hold with @att for an hour and 10 minutes and I added a second call to @att and I've been on hold for 20 minutes. So basically sitting here listening to two recordings telling me how great @att is WTF @att #yousuck

— V Gigandet (@val928) September 22, 2020
SOMEONE GIVE HER MORE PHONES.
This is what I imagine @ATT call centers look like for the fact that I've been on hold for 20 minutes and counting & still haven't talked to a person ??‍♂️ pic.twitter.com/FVD2XenKPn

— Kaiden Tokarz (@kaidentokarz) September 15, 2020
Call queue limbo can make you question everything you know.
#4. EasyJet
@easyJet Hi, i understand you're busy, but i was on hold for an hour and a half yesterday and another hour today, no one picked up. Also no reply to my DM. Can i get some form of communication please?

— Charlie (@CharlieAldred) August 20, 2020
Despite two and a half hours of hold time over two days, this customer has stayed poised and polite…
@easyJet Hello, I've been on hold for 30 minutes after speaking to an agent very briefly. Have they forgotten about me?!

— Hannah (@Hannah45092498) September 10, 2020
If your customers feel invisible, you're obviously doing something wrong.
#3. Delta Airlines
@Delta hello, I have been on hold for over 30 minutes. I just have a simple question I need answering.

— Christopher McGruder (@mrchris3535) September 2, 2020
30 minutes for a simple question? THAT'S A DEALBREAKER.
@Delta Hey Delta, is 2 hours long enough to wait on hold for a representative to help me make a 1-minute change to my reservation? What about twice in a day… is 3.5 hours enough time? Where should I send my consulting bill for all of the time you waisted out of my day?

— Garo Nargiz (@GaroNargiz) September 22, 2020
Can you imagine if customers started invoicing companies for wasted hold time? Yikes! 
#2. Expedia
I've been back and forth on hold with @Expedia literally all day to finally get someone in corporate. 5 mins into our call the call drops. I could cry. ? now it's a 39 min wait for a call back. What kind of service is this? I've been trying since 9am.

— ♛ (@misfitdana) August 3, 2020
The desperation is REAL. Who would do this to a person??
@Expedia okay you guys win after 4 hours on hold I gave up ☹️Can't believe you treat people like this

— Jennifer Histed (@jenhisted) June 23, 2020
Despite a valiant effort, this customer has conceded defeat. Nice going, Expedia.
And last but not least, the top #OnHoldWith medal of (dis)honor goes to…
#1. Chase Bank
@ChaseSupport I've spoken to 6 different reps so far and spent over 40 minutes on hold over an online account access issue. I hope all those calls were recorded because this is not how you inspire me to keep banking with you.

— Monika Zaman (@I_M_Zaman) September 14, 2020
This customer's dedication inspires us, despite this ridiculous journey.
@Chase I have spent 4 hours on hold with the fraud dept. FOUR HOURS. Finally get ahold of someone and the call disconnects. FOUR HOURS!! There are $749.04 worth of fraudulent charges on my account and your customer service is horrible! Called the bank and they were no help.

— Julie S H Grobner (@JulieSHG) August 25, 2020
Four hours of her life that she'll never get back…
Dear @Chase, I have NEVER had such a hard time filing a fraudulent charge claim. I have spent 4 hours on hold with 3 calls being dropped. Your team needs to get it together. Thinking of closing my account.

— Alex Enfiedjian (@AlexonHE) September 12, 2020
And that's the bottom line — a poor customer experience means poor customer loyalty.
Businesses, your customers have spoken loud and clear! Hold time is the worst, and we must stop the madness. 
The first step? Get call-backs for your contact center — your customers will thank you! Then check out this article on how you can improve customers' perceptions of your brand. Spoiler: making customers wait hours to speak to you is one of the worst things you can do.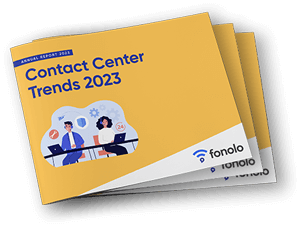 Trend Alert! Contact Center Industry Predictions for 2023
This report offers perspective on where the contact center industry stands today, plus our trend predictions for 2023.