Call centers have a reputation as a 'money pit' for businesses. Historically, they've been viewed as a costly yet necessary operation for businesses.
Today, we know that a fully optimized contact center can actually create more opportunities for sales and customer engagement. But achieving a strong ROI is easier said than done.
If you want to make your call center more profitable, the process starts with taking a long, hard look at your current expenses. Don't worry, we won't leave you hanging with such a daunting task. Read on for a simple guide on breaking down your call center costs.
Why should I break down my call center costs?
Call centers have many moving parts and associated fees that may not be immediately obvious. Conducting a full cost breakdown will help you gain a more holistic view of where your money is spent as well as areas of inefficiency.
Following a cost breakdown, it may be tempting to slash resources in an effort to lower spend. Instead, focus on how these problem areas affect your service as a whole and find a way to make them more efficient. Often, these challenges occur when processes or equipment become outdated, and it may make more sense to update these resources to increase profitability.
Breaking down typical call center costs.
To make your cost breakdown more manageable, start by grouping them into the following four categories:
Fixed overheads.
No surprises here — these items are recurring costs at a fixed value that your business should expect to pay on a regular basis.
Rent. This applies mainly to in-house contact centers, not remote teams.
Equipment. Calculate your spend on computers, headsets, office equipment, and more.
Software. This refers to your call center management platforms, CRM platform, and any other software essential to running your operation.
Taxes. Need we say more?.
Variable overheads.
These charges will vary between billing periods. It's best to leave some wiggle room in your budget so you're not blindsided by unexpected cost spikes!
Utilities. This includes electricity, hydro, gas, internet, and more.
Hosting. If you have a contact center hosted on a cloud server, you'll need to account for the associated fees.
Services. Consider costs associated with services your business relies on, such as call-back technology.
TELCO costs. Take note of all the fees associated with your call center licenses, hardware, and charges associated with incoming calls and call volume.
Staffing costs.
Your call center agents are some of the most important assets in your call center. They can also be costly resources if managed improperly.
Agent salaries and attrition. Look over the overall cost of paying your employees, — including the average salary for your agents — as well as the cost of staff turnover.
Training and benefits. How much are you spending on training? How are your agents performing? Are you getting value out of your investment?
HR & recruitment. Finding top talent takes time, effort, and resources.
Overflow centers. Keeping services on standby in case of call spikes comes with a price, of course.
Upkeep and maintenance costs.
This is the trickiest category to manage, as these costs are often hidden and unpredictable. All the more reason to track them carefully.
Updating software or equipment. Regularly updating your tools and technology can help you avoid last minute emergency costs.
Technology maintenance fees. Even the best tools break down, so it's important to have room in the budget to account for unexpected issues.
Security compliance and auditing. These are important for maintaining compliance with laws and regulations surrounding the contact center industry.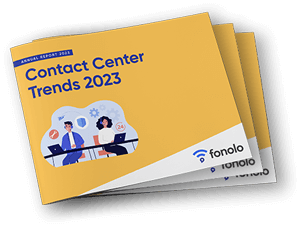 Trend Alert! Contact Center Industry Predictions for 2023
This report offers perspective on where the contact center industry stands today, plus our trend predictions for 2023.