As a call center leader, you have one main goal — to grow your long-term customer base. To do that, you need to keep your customers happy.
Call center performance is heavily weighed on customer satisfaction; so, the importance of a customer service strategy is undeniable.
Customer service strategy: then vs. now.
Customer expectations change, especially over a long period of time. Call centers must monitor customer interactions, analyze customer data, and actually read the results of customer satisfaction surveys to improve customer loyalty and retention.
Gone are the days where a cheap product or service was enough to keep a customer happy. Today, you can't risk the aftermath of poor customer service. To come back from one negative customer interaction, you need to have 12 more positive ones. And, a dissatisfied customer is twice as likely to tell people about their one bad experience than about their good experiences.
You'll increase customer loyalty with strong customer service; in fact, customer support is now considered a growth driver by leading enterprises.
Set your customer service goals.
Clear, actionable goals are essential for any call center customer service strategy. As mentioned earlier, your main, overarching goal is to keep customers happy and loyal. To get there, you need more specific goals. When thinking about goals, ask yourself questions about your operations, like:
Are my call center agents responsive? Happy? Engaged?
Are my operations meeting the company budget? Are costs consistently over budget?
Are agents equipped with the right knowledge and tools to support our customers?
Answer these questions to get a better idea about what you want your call center to achieve. Use your goals to inform which KPIs you use and how you analyze them.
How to analyze your call center data.
Call center metrics offer unique insight into the progress of your customer service strategy. Take an exploratory lens to data analysis and setting metrics to see what's worked well and what hasn't.
To start, study your customers to understand their preferences. Listen to what they need, ask them for feedback, and give them the option to chat over the phone or through email or live chat. Knowing your customers is a good first step to satisfy them.
Another prominent component of call center data is KPIs (key performance indicators). First-call resolution, average handle time, abandonment rate, and customer satisfaction scores are all popular metrics that measure performance, and in turn, customer satisfaction. If you notice some KPIs are lower than the benchmark, implement that into your customer service strategy.
Build a dream team.
The right team members make all the difference when it comes to customer service. Before you even think of customer service strategies, you need to hire staff – agents and management – that share your company values.
More people are quitting now more than ever, which makes hiring the right people critical. On top of that, call centers are notorious for high agent turnover, which will make 2022 a tough year for HR.
When looking for talent, make sure you:
Define company values clearly in the interview process.
Include company culture questions in the interview to assess fit.
Provide benefits and opportunities for growth.
Deliver impeccable training and onboarding once you hire someone.
Agent engagement is becoming a key metric for customer service – take care of your agents so that you can take care of your customers.
Choose the right call center technology.
Once you have clear, actionable goals and an understanding of your call center's performance, leverage technology to improve your customer service.
Web Call-Backs (formerly Visual IVR), conversation scheduling, voice call-backs, and other call center technologies can improve metrics and increase customer satisfaction ratings.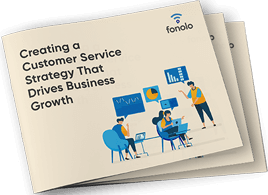 Creating a Customer Service Strategy That Drives Business Growth