One of the most critical tasks for a contact center manager is prioritizing metrics and KPIs. As the old saying goes, "you can't manage what you don't measure".
What makes this task so daunting is the sheer number of metrics to choose from: Service Level, Customer Satisfaction Scores, Abandon Rate, First Call Resolution… the list goes on.
It can be tempting to measure everything, but it's more effective to select a few KPIs so you can focus on certain performance areas of your call center. We've put together a comprehensive list of metrics so you can select the best ones for your contact center strategy.
What Are Call Center Metrics?
Call center metrics are benchmarks you can use to measure your daily call center activity. Common Key Performance Indicators, or KPIs, are often tracked automatically through your integrated phone system so you can explore historical data and trends.
The metrics you track help you understand your performance in different areas, such as CX, agent efficiency, and call volumes. #CX #KPIs #CCTR
Click To Tweet
Why Are Call Center Metrics Important?
Those who do not know history are doomed to repeat it. This famous saying rings especially true when it comes to metrics in the call center. It can be easy to get caught up in the daily grind, but by taking a step back and understanding where your challenges lie, you can create a plan for improvement.
The KPIs you choose to track will help you understand your call center's performance in different areas, such as customer experience, agent efficiency, and handling of high call volumes.
What Are the Top Call Center Metrics?
First Contact Resolution (FCR)
Customers don't actually want to reach out to your contact center. They do it out of necessity because they have an issue and require support. It's in both of your best interests to make the first engagement your only engagement on the matter, so the customer is satisfied and your agents don't spend excessive amounts of time on a single problem.
FCR is calculated by dividing the number of inquiries received within the first interaction by the total number of customer inquiries. The resulting percentage shows how often your call center is able to achieve this ideal.
DID YOU KNOW?
93% of customers using the call center expect to resolve their inquiry or problem on the first call. – SQM Group
Customer Satisfaction (CSat) Score
The subjective nature of customer satisfaction makes it tricky to measure. You can collect data from your customers through surveys, questionnaires, or through third-party services. But what you ask is just as important, as your questions will have a direct impact on the kinds of answers you receive.
Net Promoter Score is a very common approach. Essentially, this approach boils down to the question: "would you recommend our product or service to a friend or colleague?". By identifying areas where your service excels and areas for improvement, you can make data-driven decisions to improve your customer experience!
Occupancy Rate
If you're looking for insights on contact center agent efficiency, Occupancy Rate is a good metric to track. This percentage shows the amount of active time versus idle time — in other words, how much time they spend serving callers versus waiting for the phone to ring.
Keep in mind that boosting Occupancy Rate is about more than having your staff work harder. More often than not, the issue lies in overstaffing during quiet periods, so be sure to forecast your call volumes and schedule shifts strategically. Another option is to assign your agents secondary tasks during quiet periods so they remain productive.
Abandonment Rate
This metric shows you how many of your callers who hang up before reaching an agent, also known as an "abandoned call". While there are many reasons why a customer may abandon a call, the most common reason by far is long hold times.
Callers get easily frustrated waiting in the call queue, which harms your customer experience. Plus, high call volumes negatively affect your agents as they struggle to serve a mounting queue of callers. Keep your abandon rates low by hiring more staff or adopting a call-back solution so your loyal customers aren't left waiting.
Service Level/Average Speed of Answer (ASA)
Service Level, also referred to as Average Speed of Answer, is one of the most common metrics contact centers track. It's defined as a pair of numbers: a percentage value and a time value in seconds. So, for example, an "80/20″ service level means 80% of calls answered in 20 seconds.
For many call center managers, maintaining service levels is a top priority. Most experts agree that a call center's service level should be based on what that call center can reasonably achieve given its resources and expected call volume. Coming up with this figure requires deep analysis and hard work.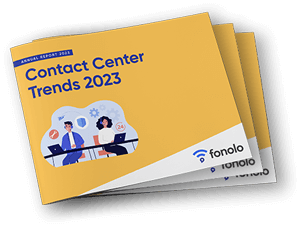 Trend Alert! Contact Center Industry Predictions for 2023
This report offers perspective on where the contact center industry stands today, plus our trend predictions for 2023.