Whether you're diving into a new industry or looking to brush up on your skills, training courses can benefit professionals at any stage of their career. This is especially true for contact center and customer service professionals – after all, customer behavior is constantly shifting, and it's critical for businesses to meet their expectations.
Fortunately, e-learning has made call center management courses more accessible than ever. There's no excuse for gaps in training or knowledge when all the information you need is just a few clicks away! If you're unsure where to start searching, we've got some great programs for you to explore below.
Who Should Take Call Center Management Courses?
Call center management courses are great for both current and aspiring professionals looking to sharpen their skills in customer support, operational best practices, team leadership, and much more. There's no right or wrong time to take a training course — in fact, the best contact centers embrace continuous learning to ensure their agents have the skills and knowledge to always support their callers.
Top 7 Call Center Management Courses
1. ICMI Contact Center Management Boot Camp
ICMI is one of the big names in the contact center world, so who better to host a contact center management training course? This is a 2-day virtual bootcamp course led by a live ICMI certified instructor, and covers key management practices for the contact center, important terms and definitions, how to meet service levels consistently, best practices in contact center forecasting, and much more!
More on ICMI's Contact Center Management Boot Camp →
2. Benchmark Portal: Contact Center Manager Certification
Benchmark Portal promotes on demand training and self-paced learning for contact center professionals through their online courses! Their Contact Center Manager Certification is one of many courses they offer. In this 3-day virtual classroom course, you'll learn best practices for managing your contact center team, technology and software, and daily operations.
More on Benchmark Portal's Contact Center Manager Certification →
3. Udemy: Call/Contact Center Management, The Essential Guide
Udemy is already known as a one-stop shop for lessons on almost anything so it's no surprise to see them offering courses in call and contact center management. This training covers the basics of everything including channel strategy and execution, scheduling, contact center technology, and of course, best leadership practices. It includes 1.5 hours of on-demand video, assignments and a certificate upon completion. It's a great starting point for new contact center team leads, supervisors, and managers looking to start their next role on the right foot.
More on Udemy's Call/Contact Center Management Course →
4. GAQM: Certified Call Centre Manager (CCCM)
If you're looking for a certification based in the UK, the Global Association for Quality Management (GAQM) has you covered. The Certified Call Centre Manager, or CCCM, leads an e-course that helps current and aspiring leaders set a strong foundation in hiring and training agents, supporting team members in meeting service levels, analyzing trends and reports to improve processes, and more. The e-course duration is an estimated 20-25 hours and concludes with a registered exam.
More on GAQM's Certified Call Centre Manager E-Course →
5. Universal Class: Call Center Management Online Class
Universal Class is a platform dedicated to supplying online continuing education courses. Their call center management class focuses on the customer experience and how to build and keep positive customer relationships. This self-paced, online course is a great option for contact center professionals who want to focus on skills and techniques for creating outstanding CX — plus, you'll receive an official certificate upon completion.
More on Universal Class: Call Center Management Online Class →
6. COPC: Call Center Consulting Training
Call center management training doesn't need to be done independently. In fact, COPC provides training courses for call center teams looking to boost operational efficiency while improving customer satisfaction. In addition to online learning, they offer in-person and private on-site sessions. COPC's training is an investment for your department so it might not be the best choice if you're looking for a one-off course. However, if you need more in-depth training for your whole contact center team, COPC may be worth exploring.
More on COPC: Call Center Consulting Training →
7. The Call Center School: Call Center Supervision Essentials
The Call Center School is a hub of valuable training programs for contact center professionals. Their Call Center Supervision Essentials course focuses on ways call center managers can improve agent engagement through best leadership practices. Using a combination of video, case scenarios, and self-assessments, this is a great introduction for both current and aspiring call center managers.
More on The Call Center School: Call Center Supervision Essentials →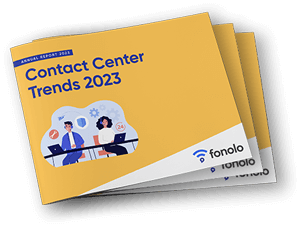 Trend Alert! Contact Center Industry Predictions for 2023