One of the major forces reshaping the call center is the conversion to SIP. New data from Forrester shows the trend gaining strength. Their recent survey of IT decision makers shows that 55% of companies either have or are planning to replace PRIs with SIP trunks (see figure).
The SIP protocol covers all enterprise communication, not just contact center. However, for many companies, the journey to an all-SIP environment is starting with their call center.
It's a logical subset to start with for two reasons:
It's somewhat isolated from the rest of the enterprise's telecom usage.
It inherently involves voice traffic coming or going from the PSTN, so there is a good case for lowering telco costs.
In our post, SIP is Seeping into Call Centers, we talked about how a SIP-enabled call center can add 3rd party enhancements (like speech analytics), implement call-attached data (that actually works), and add advanced features like Web Cal-Backs (formerly Visual IVR) and virtual queuing.
If you're interested about call centers and SIP, here are 5 must-read articles (well actually, 4 must-reads and 1 must-watch, to be accurate.)
1) SIP Trunks and Contact Centers
Eric Krapf is the Program Co-Chair of the Enterprise Connect events. They recently held a webinar discussing SIP and the call center featuring Art Schoeller, a principal analyst at Forrester Research and one of our 12 analysts to watch. It's available on demand here. (That webinar includes the data behind this post's cover image.)
Eric writes about cost savings from SIP:
[they] come from more efficient traffic engineering and bandwidth savings as well as potentially better rates from the provider.
2) Rethinking the Call Center
By Jon Arnold
Jon Arnold is also one of our 12 analysts to watch and often writes about the call center. In this article, part of his "Rethinking the Call Center" series, he discusses cost savings:
… when VoIP is coupled with SIP trunking … the contact center saves … by cutting back on toll-free numbers, as VoIP enables click-to-call, which customers can initiate from their PCs or smartphones.
Regarding the advanced functionality, he writes:
In terms of enhancing the customer experience, SIP trunking also enables HD audio, which can be a real differentiator …
You need a subscription to read the article, but it is free.
3) Webinar: The Ticketmaster Success Story
This Genesys webinar features Elizabeth Grotto, SVP Global Contact Center Technology for Ticketmaster. She recently oversaw a complete conversion to SIP. She talks about how Ticketmaster achieved 60% decrease in annual maintenance costs and ROI in 18 months by doing so. It's well worth watching.
4) SIP vs TDM for the Contact Center
This post is from the blog of Spoken Communications, a cloud-based call center provider. They have a number of good articles on their blog. This one in particular is succinct and cites some good industry data.
What does [SIP] mean for the contact center? An easier, more reliable, less expensive way to make voice calls and the data that so often must accompany them.
5) How is SIP Changing the Contact Center?
This article from Call Centre Helper asks a panel of experts about the impact of SIP:
[SIP] is allowing contact centers to operate more efficiently as transfers, conferencing, one-button recording, queue visibility and caller details are provided by a rich client application…
– Dave Paulding, Regional Sales Director, Interactive Intelligence
Claims that an investment in SIP can generate its own ROI need to be looked at carefully. Because while it's true that, for example, SIP trunking can be cheaper and a great deal more flexible than traditional TDM trunking, SIP by itself won't deliver new functionality.
Tony Hesketh, Director, Solutions Consulting, Aspect
Through its native ability to support collaborative multichannel IP communications, SIP also enables operators to rapidly set up innovative services such as web click-to-call, IM with presence and voice-enhanced e-commerce.
William Gray, Managing Director, Macfarlane
"As SIP is an open standard, it interfaces with any other SIP-based platform, device or application. The resulting freedom of choice gives greater flexibility, easier integration and faster deployment."
Charles Lee, Senior Product Marketing Manager, Alcatel-Lucent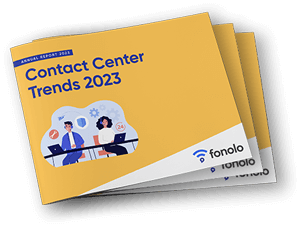 Trend Alert! Contact Center Industry Predictions for 2023
This report offers perspective on where the contact center industry stands today, plus our trend predictions for 2023.