The holiday season brings both challenges and opportunities for retailers. With the increased shopping activity, the strain on customer service channels can start to damage customer perception and loyalty.
That much has been true for decades, but now the stakes are much higher because of social media. Platforms like Facebook and Twitter give angry customers a public platform to vent their frustrations. That amplifies the consequence of every negative customer experience.
A great example of this phenomenon is the "tweet-venting" that occurs when callers are left on hold for a long time. According to onholdwith.com (which catalogs those complaints), GameStop's holiday shopping season is not off to a good start.
Cyber Monday Blues
The complaints seem to start climbing upwards starting December 2, the so-called "Cyber Monday". Some examples of the complaints are below:
Web Chat Blues
If a call center is overwhelmed, one option to reduce the pressure is to offer web chat as an alternative.
This can be effective if done properly. Unfortunately, many times companies add the "front-end" piece of a chat option to their website without thinking through how to properly provide good service with it. (See my recent posts Twitter Bots – The Inevitable End-Point for Social Customer Service and Chat-Based Customer Service at its Best and Worst.)
GameStop's competitor GameDigital seems to have fallen in this same predicament as evidenced by this angry tweet:
Replacing Hold-Time with a Call-Back
I think a great way to handle an overloaded contact center is to offer callers the option to hang-up and get a call-back when the agent is ready. That way, the call center and the agents continue doing what they do best – handling customer calls, but the customer doesn't have to stay on the line. No more tweet-venting means less damage to the brand. Fonolo offers the most cost-effective solution to enable call-backs to your call center, using cloud-based infrastructure to keep both cost and integration time to a minimum.
Hungry for more onholdwith.com stats? Read our ten worst hold-time offenders of the year.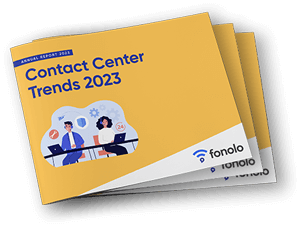 Trend Alert! Contact Center Industry Predictions for 2023
This report offers perspective on where the contact center industry stands today, plus our trend predictions for 2023.