G
one are the days when social media was a 'nice to have'. Any company who hasn't fully embraced social media is now playing catch-up to their competitors, who surely have.
A great example is KLM airlines who built its social media channels out of necessity, after a 2010 eruption of an Icelandic volcano stranded passengers. Today their social channel boasts 150 dedicated agents and $25M in annual revenue (that's just shy of $170,000 per agent).
Here are 5 ways you can incorporate social customer service into your contact center.
1. Don't reinvent the wheel. Adopt your existing strategies to social media.
Your organization has already invested heavily into strategies, procedures and training to respond to customer issues. So when it comes to supporting social media channels, make use of the same approaches you would for phone calls, email, chat, etc. The nuances of the channel may differ, however customer expectations are still the same.
By taking a hard look at your existing strategies, you'll easily see which ones naturally lend themselves to servicing social customers, and which ones need updating.
2. Allocate the resources to be successful
Anything worth doing is worth doing right (doubly so, if doing it wrong means losing customers).
When allocating resources, make sure you have enough coverage to service customers throughout the workday. Nothing is more frustrating for customers than having to wait an unreasonable time for a response (on any channel!). For a social media strategy to be effective, you'll need to address issues in a timely manner. You'll also need to have the kind of agents that can shine on social media – the right team members can make all the difference.
3. Offer specific training for social media
In customer service (as with life), it's often the little things that count. Beyond understanding the tools, make sure your agents understand how to engage with social customers – from specific etiquette to language and abbreviations. Don't skimp on the training.
4. Empower your agents
As you would with any channel, aim to resolve customer issues the first time. To this extent, make sure agents are empowered to resolve customer issues without having to send them elsewhere. After all, customers have come to expect the same quality of service on every channel. This leads us to the next point:
5. When you have to escalate customers, maintain context
It's not always possible to resolve every issue on every channel. For example, according to Amex, for a complex inquiry (e.g. product return or assistance), the majority of customers prefer speaking with a real person on the phone. Given this, it's important for agents to know when – and how – to escalate to a voice conversation.
Tools like Fonolo's Web Rescue allow agents to easily transfer a conversation from another channel to voice, by allowing them to schedule an automated call-back from a phone-based agent. Using a simple web-based tool, social agents can easily pass information to the agent, to preserve the context of their conversation with the customer. In that way, customers can seamlessly move from social to voice without having to start over.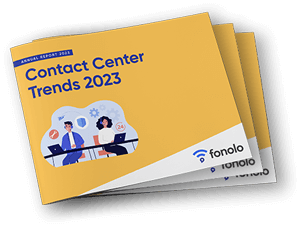 Trend Alert! Contact Center Industry Predictions for 2023
This report offers perspective on where the contact center industry stands today, plus our trend predictions for 2023.