Customers increasingly prefer chat over other communication channels, but chat suffers from an uptake problem, particularly on mobile.
On the other hand, messaging offers basically the same experience – asynchronous text-based communication –­ but has no problem with uptake. In fact, it's burning up the charts: Messaging apps occupy 6 of the 10 top slots on App Store (the top 4 have 3 billion users). Granted, that popularity is driven by person-to-person rather than person-to-business communication, but many companies are betting on messaging making that transition.
So we're at a crossroads: Will chat find a way to increase uptake rates or will messaging find a way to become a B2C channel?
That's the topic for this webinar which you can watch on demand at any time.
What the Difference Between Chat and Messaging?
Although "chat" and "messaging" are interchangeable in casual usage, they are in fact, two different approaches to customer service.
A company adds "chat" to its website or mobile app by buying, from a 3rd party, a service that will live solely on that company's site or app. Whereas,  "messaging" is something that requires the company to partner with a platform that gives consumers a single interface (on the web or phone) for contacting both friends and businesses. The company does not pay for the platform and does not have control over it.
Caveat: These definitions aren't official, but seem to be the consensus of the industry folks I know. If anyone has information that suggests otherwise, I'd love to hear from you in the comments.
The chart below fleshes out the comparison.

The Ownership Issue
The top row of that chart is, I believe, the most interesting difference between the two. To make it more concrete, let's say Company X uses a chat vendor (e.g. LivePerson, [24]7, Boldchat, Olark Live Chat) to add chat functionality to its website or mobile app. There is a vendor-client relationship there. Company X is paying and the vendor needs to keep its client happy.
The same is not true for Company Y who partnered with a messaging platform (e.g. Facebook Messenger, WhatsApp, Kik, SnapChat). Here, there are two agendas: Company Y's and the messaging platform's.
"Owned" vs. "Shared" Customer Service Channels?
To streamline the language, you could say Company X "owns" the chat channel. (They don't literally own it, but the channel is there to serve solely their purpose.) Company Y is "sharing" a channel with the other companies using the same messaging platform.
Some of the ramifications to "owned" versus "shared" channels:
Data ownership / security – What rights does the platform owner have vs. the company?
Neutrality – Will the platform treat all companies equally?
Longevity – Can companies trust that the platform will continue to work the same way in the long run?
I elaborated on these ideas in an earlier post: Will the WeChat Model Work in the West?.
How Does Twitter Fit in?
Twitter has proven to have enduring appeal as a customer service channel. It's a role that was never part of the original vision of the service, but now is being fully embraced by the company.
Looking at Twitter in comparison with chat and messaging, the "frame" around the experience is different, the communication mode is the same: asynchronous and text-based. It's different from chat and messaging in that conversations default to being public. But like messaging it is a "shared channel".
As such, the 3 concerns above apply to Twitter. Twitter's controversial changes around the rules for Direct Messages is a great example of #3.
A "Shared" Channel is an Unwritten Partnership
This idea of a "shared" channel is new to the world of customer service. For the last few decades, customer service was dominated by phone and email which were both "owned" channels. (Delivered by a phone company and ISP, respectively, which are both truly "neutral" platforms.) To continue with the analogy, consider in-person customer service where the physical store acts as an "owned" channel.
I'm stretching out this point a bit to point out how new this relationship really is. When Company X uses say, Facebook Messenger, to converse with a customer, that interaction is replacing one that might have happened over the phone or over web chat. Whereas the phone call or web chat would carry a per-interaction fee paid to the phone company or chat company, there is no fee paid to Facebook. There is, instead, an unwritten partnership happening between Facebook and Company X. Are both sides clear about what they expect from each other?
Interesting Choices
Companies are very eager to move conversations off the phone, where cost is highest, and on to text-based channels, where cost is low. The question is which channel is best? It's great to have multiple choices fighting it out in the marketplace.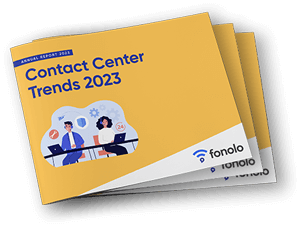 Trend Alert! Contact Center Industry Predictions for 2023
This report offers perspective on where the contact center industry stands today, plus our trend predictions for 2023.