Being a call center agent is far from a glorious job. Yet they're the unsung heroes of your company, answering a never-ending stream of calls from customers who aren't always happy to be on the other end of the phone.
Great call center agents engage with customers every day, representing your brand in ways other employees can't. You may not realize it, but every day they make commitments to get the job done the right way.
Here are 3 commitments every great call center agent makes:
They Commit to Your Company
Due to the availability of multi-channel customer service options these days, the complexity of voice calls continues to rise. This creates a burden on call center agents, who have to deal with an increase in calls of a difficult nature.
Agents have become more than just repositories of information – today they're brand representatives who often have to field a wide range of questions outside of their usual purview.  To do the job right, they have to make a commitment to your company and learn as much as possible, so they can properly handle calls that go beyond simply following a script.
Great call center agents often advocate on behalf of your customers, working to fully resolve issues that aren't always easy to fix. Their job isn't simply to get off the phone as quickly as possible (as it is in so many call centers), it's to satisfy callers and exceed their expectations, which drives customers to be loyal to your brand.
They Commit to Themselves
The best employees are ones that constantly strive for improvement. Great agents regularly participate in training, ask for feedback, and actively pursue their personal development.
It should go without saying that agents with these qualities are the ones that truly deserve your commitment.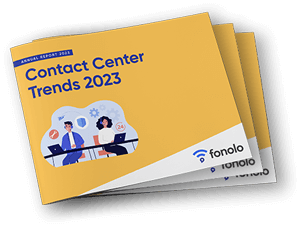 Trend Alert! Contact Center Industry Predictions for 2023
This report offers perspective on where the contact center industry stands today, plus our trend predictions for 2023.