I think it's fair to say that the busier you are, the higher the likelihood for error. When you're managing and juggling more things than normal, mistakes are of course inevitable. Now let's think about the environment of a call center. You can almost sum it up in one word – volatile. Unexpected peaks in call volume, workforce personnel constantly changing, fluctuations in consumer demands, and the list goes on. The contact center space is in a constant state of change and is expected to keep up every step of the way. But, just like anything else that's full of activity, errors are bound to occur.
Luckily, these call center mistakes are common throughout the industry. So much so, that we can address them now and try to avoid them in the future. Here are five errors your contact center is making every day.
1. Leaving Customers on Hold
Every call center strives to do the best possible job keeping customers happy. Doing this consistently, and doing it better than the competition, is no small challenge. Yet, many call centers lose customers every day through the simple act of leaving them on hold.
To prevent this from happening, contact centers should consider offering a call-back. Call-backs improve customer satisfaction and make the call center experience more enjoyable. Not only do they positively effect CSat, call-backs also provide concrete ROI for the call center. Check out this eBook for more on that subject.
2.Untimely Twitter Responses
Twitter's contribution to the contact center plays two roles.
1) It's a customer service channel all in itself; and
2) It's a way to complain about the most dominant service channel, which is still the plain 'ole phone call. (Check out onholdwith.com for Tweeters complaining about hold time.)
According to Search Engine Watch, 70% of surveyed Twitter users expect a response from brands they reach out to, and of those users, 53% want a reply in under an hour. This increases to 72% when they're issuing a complaint.
The importance of responding to a Tweeter in a timely manner is critical, especially when the tweet is negative. Here are some of the benefits:
47% of people recommend the brand on social media
43% of people encourage friends and family to buy from that brand
42% of people praise the company on social media
To avoid any lag in response times, create alerts for Twitter complaints so they are not missed.
3. Not Realizing Pitfalls When Calculating Metrics
Measuring and improving call center metrics can be a pain point for executives. Your call center operates in a stressful environment where good quality metrics lead to a higher standard of customer service. You may not realize it, but there are common errors when calculating these 4 popular call center metrics: Occupancy Rate, Average Handle Time, Service Levels, and Abandonment Rate.
These numbers drive your budget, the jobs of your agents and, of course, your company's bottom line, so it's critical to get them right. Rather than diving into everything here, read the full detailed report for a thorough understanding. You'll also gain insight into how those pitfalls can be avoided.
4. Not Collecting Customer Feedback
The relationship you have with your customers is key to future success. Are you listening to them and effectively meeting their needs? VoC research is designed to support customer driven change, and in an era where change is ongoing, these programs are essential.
It's vital that you capture consumer expectations and preferences in order to accurately meet their needs. If you haven't developed a VoC program, now is the time. According to Forrester, successful VoC programs should support a cycle of four activities: Listen to customer feedback, interpret the resulting data, react to improve the experience, and monitor results. As a profound writer on customer loyalty, Kevin Stritz puts it this way,
Know what your customers want most and what your company does best. Focus on where those two meet.
5. Not Rewarding Agents
There's little doubt that recognizing a job well done is a great motivator. So do it regularly! It doesn't need to be an annual trip to Hawaii (though feel free to sign me up for that). Rather, regular acts of public recognition can genuinely improve morale and bring out the competitive spirit in everyone. Unfortunately, many call centers fail to recognize this important topic. They are so focussed on improving metrics that they often neglect their front-line staff.
Luckily, there are many ways to incent and reward employees. Investing the time and effort to develop a strategy that fits your particular environment can pay enormous dividends.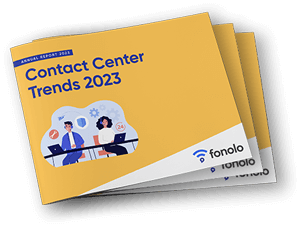 Trend Alert! Contact Center Industry Predictions for 2023
This report offers perspective on where the contact center industry stands today, plus our trend predictions for 2023.