Here's an obvious statement for you, "Make sure customers are 100% happy with their experiences". This truth goes without saying, since happy customers – those who actually like doing business with your brand – are also more likely to be loyal to your brand. And as you know, a happy customer is the result of having positive experiences with your business, which leads to increased customer satisfaction and ultimately revenue generation.
In a recent whitepaper we highlight some notable statistics around the importance of Customer Satisfaction (CSat), Customer Effort Scores (CES), and Net Promoter Score (NPS). While CSat tells you how happy customers are, NPS measures customer loyalty, and CES helps you understand where grievances lie. CSat, NPS, and CES are best used together to achieve an accurate understanding of your customers and predict long-term business needs.
If you want to improve your customer satisfaction strategy, boost customer retention, and impact the bottom-line, then it's worth considering how these statistics can help you.
1. For every customer complaint there are 26 other unhappy customers who have remained silent, so make sure you test your customer journey and ask for customer feedback.
2. Improving the customer journey has the potential to not only increase customer satisfaction by 20%, but also to lift revenue by up to 15%, while lowering the cost of serving customers by as much as 20%.

3. McKinsey & Company found that measuring satisfaction on the entire journey is 30% more predictive of overall satisfaction.

4. 80% of organizations use CSat scores to measure the customer experience, but there are a number of other metrics that go beyond surveys and questionnaires when it comes to gauging CX. Download the whitepaper to read more.

5. On a global scale, the average amount of time for calls to be answered, including the amount of time the caller waits in queue is 28 seconds.

6. 5-8% of your callers will hang-up before an agent answers. Make sure you consider a call-back solution to correct this problem.
Use this list not only to gauge where your contact center stands amongst the pack, but also to make strategic decisions in your future plans.
Good luck!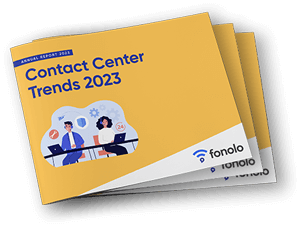 Trend Alert! Contact Center Industry Predictions for 2023
This report offers perspective on where the contact center industry stands today, plus our trend predictions for 2023.