As the weather warms up in the West and many take off for their summer holidays, customers are increasingly dealing with big-brand companies in the business of travel: Airlines. Modern airline customer service (CS) is a far cry from the days when Don Draper-like marketers were designing prime service experiences for anyone who could afford to climb aboard (as marketed in the below 1954 ad for American Airlines).
This month, some of the top global airlines have been criticized on social media for their insufferably poor customer service, including established companies like American Airlines, British Airways, Norwegian Airlines, Aer Lingus, Thomas Cook, Lufthansa, and Air Canada. The hold times, lack of response, poor multi-channel infrastructure, and even poor in-cabin experiences have now conflated bad CS with the airline industry, so much so that it has become something The Onion has parodied many times, including here, here, and here.
But customers who experience bad CS at any moment in their airline journey have discovered a very loud, very public, very useful tool in spilling the dirt on bad airline CS: Twitter. And luckily, for everyone involved, we have been on top of monitoring it all.
Powered by Fonolo, OnHoldWith.com is a community-driven, Fonolo-powered website that aims to end hold-times for good. The data-gathering hub does this by pulling all social mentions of customers experiencing long hold times, as well as their visceral, off-the-cuff, and sometimes hilarious repartee. As much as these make for an entertaining read, they offer a lesson for contemporary businesses: Be mindful of social media as a new customer service channel, and have social media agents on hand to monitor burns against your brand. More and more, social media is a place where the customer feels they have a voice, but when being put on hold they have none.
Every year, we use this data to compile our list of the Ten Worst Companies to Call for that year.
Among the many Tweets we read, some trends emerged:
No customer wants to be put on hold,
When put on hold for so long, customers begin to think "They Don't C-Air About Us",
Most would prefer a call-back option, and
If you still have a hold time problem, do your customers a solid and play decent music.
Read on as we highlight some of the top hold-time offenders for June, featuring companies that span the globe. Through these candid, sometimes amusing, social media shout-outs, companies can learn a lot about how to get their contact centers to rise up to any customer challenge.
Air Canada
It looks like Air Canada provides a memorable customer experience, but unfortunately, that experience includes long hold times and a faulty omnichannel network:
I even called @aircanada for help (after being on hold for 30+ minutes) and they said the only way is to try to contact on the website

— alluneediz1mike (@alluneediz1mik3) June 20, 2018
Hell is being on hold with @AirCanada for over an hour listening to their muzak.

— Paul Sun-Hyung Lee (@bitterasiandude) April 15, 2018
Frontier Airlines
They may be good at taking off from the runway, but their hold times could potentially run them into the ground:
@FrontierCare we've now been on hold for an hour!!! How can you run a business like this?

— RMGold1 (@RMGold1) June 23, 2018
@FlyFrontier Worst customer service ever!   Have been on hold for over an hour.  Cancelled flight……we have non refundable hotels and tickets and no one will help us!!   This airline sucks!

— Andy Berchtold (@andyberchtold) April 17, 2018
Lufthansa
Lufthansa's on-hold service makes its customers consider their time on this earth:
Being on hold with @lufthansa will be the death of me

— Sam (@MzAllRounder) June 6, 2018
Thomas Cook
If you're forced to put your customers on hold, do them a favour and give them the gift of easy listening. Bad hold music is evidently nightmarish for some:
Hey @thomascook if you're going to keep people on hold for ages, may I suggest you change up your hold music? The one plinky plinky track is giving me a headache!

— Steph B (@digi_steph) June 5, 2018
Aer Lingus
Thomas Cook customers aren't alone. For Aer Lingus, it's a widely held opinion that its hold music is something to shake a penny whistle at:
@AerLingus Been on hold for an hour… If I have to listen to this song again I'm going to jab a penny whistle in my ear.  Please respond to your customers.

— Micah Burke (@MicahBBurke) May 26, 2018
Playing one song on repeat for a customer service hold is a bold move for any company intending to keep their customers on a 20 wait @AerLingus most companies don't try to bait already annoyed customers, unless your tactic is just defeat by audio exhaustion.

— ldonn93 (@ldonn93) June 18, 2018
British Airways
From BA, we can learn an important industry tip: If you want to boost your abandon rates and get rid of pesky customers, just keep putting everybody on hold …
@British_Airways It's been 30 minutes on hold… I give up!

— Chris (@super_fly_chris) June 16, 2018
… and draining their bank accounts:
Ok is there a freephone number? Otherwise it costs 7per min and last time I was kept on hold for over 30 mins!

— Charlotte Koff (@charlotte_koff) June 12, 2018
But this one BS customer does make a great point:
@British_Airways Been on hold for 30 mins. Then got cut off. So frustrating. Do you not have a callback service?

— Nicky Cox MBE (@FirstNewsEditor) June 10, 2018
United Airlines
It's not all fun and jokes. The reality is, making hard-working people wait on the line is taking precious minutes off their lives and stealing it away from quality time with their loved ones. It's no way to treat a customer who invests in your brand:
@united I've been on hold (with your 800 number) for 63 minutes now, and I'm still waiting. This is so very frustrating. I'm sure you understand how difficult it is for a working parent to find 63 minutes in their busy work week to go through this. Please make this better.

— Jonathan (@filmnut) June 20, 2018
American Airlines
Take your customers on amazing journeys, ones that look absolutely nothing like this:
Update with @AmericanAir I was on hold for 35 minutes and she told me I could do it online… So basically, this was a giant waste of time.

— Olivia De Gracia (@ODeGracia) June 20, 2018
Please respond to my DM, I'm not available to sit on hold for hours at a time. So much for being a loyal customer!? I get being busy but telling me to call customer service who cannot be reached versus responding to my concern is a joke…

— (J²) (@TheRemixOnline) June 18, 2018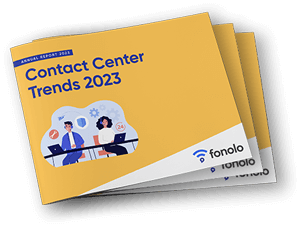 Trend Alert! Contact Center Industry Predictions for 2023
This report offers perspective on where the contact center industry stands today, plus our trend predictions for 2023.