Full disclosure: I've been watching a lot of Star Trek: The Next Generation lately. And no, it's not all about spaceship battles, alien encounters, and boldly-colored jumpsuits. It's about the future (the year 2364 to be exact), and it gives anyone in the Customer Experience (CX) racket a lot to think about.
One of the more fascinating components of each episode is the "futuristic" technology weaved into the storylines. While many of the gadgets began as hair-brained offerings on the part of the writers, my generation has lived to see some of them realized, even mass-produced: Medical scanners, FaceTime, 3D Printing, online communication networks, and iPads/digital tablets are a normalized part of our here-and-now. But while on Star Trek the technologies often aid in bringing humans and other diverse species closer together in a post-currency world, in reality, it has arguably distanced humans from one another, wrenching their attention away from people and towards the flickering screens of their phones.
Because of their omnipresence in our lives, similar tools have been implemented into customer service experiences (and with varying degrees of success), but 'technology in CX' remains a moving target. While a few years ago there may have been more customer demand for chatbots, DIY online self-services, and service apps to improve the customer experience, this year brands are noting that they should be more customer-centric, personalized, customized, and humane.
The desire for 'humanity' in CX is certainly not a new concept; there have been ebbs and flows in what this has meant over the past few centuries. In this particularly pivotal moment in the CX trajectory, it's good practice to look to the past before taking any steps forward. We thought it prudent to slide into the way-back machine and ask: What was customer service like before the emergence of automation, self-serve kiosks, online do-it-yourself services, and touch-tone automation? What did it mean to have a people-centric customer experience during the Golden Age in America? What experiences knocked it out of the park?
Experience the 1950s: America's Golden Age of CX
The 1950s marked an industrial boom in America, a period of resilience and rebirth following a series of challenging years for the nation. With the Great Depression and World War II in its rearview mirror, the country now focused on thriving and growing. Be it department stores, restaurants, airplanes or movie theatres, the customer felt this wave of prosperity washing upon them at every turn. And, with the 1947 creation of The International Organization for Standardization in 1947 (an international body "which promotes worldwide proprietary, industrial, and commercial standards" for 162 countries), customers were king and their interests were protected in the decade to follow. Much of the success of the 1950s CX experience can be attributed to a few rules:
1. Be Polite (and Polished)
Part of the charm of successful 1950s customer interactions were the polite and attentive sales clerks and purveyors who learned customer names, offered suggestions on products without peddling, and believed deeply in the products they sold. In fact, they were product ambassadors with the knowledge and skill to make the experience seamless and sweet from start to finish. Part of a successful customer interaction is as simple as making it pleasant, a conversation between two people which happens to end with a sale. While customers today are more harried and taxed for time, we can drop a bit of sunshine into our speech when chatting with clients (a little goes a long way).
2. Be Special
We may have personal TV screens and wayward bags of free pretzels on airplanes in 2018, but this doesn't mean that airlines have come a long way in their CX journey. In fact, it might be the opposite. In the 1950s, commercial flying was a special, beloved experience; guests dressed up in their finest duds and reveled in the lap of luxury while aboard. As airline tickets were cost-prohibitive (a domestic flight could run you close to $1200 in today's cash), those who could afford it expected all luxuries imaginable. With the extra legroom, more on-board 'freebies', and high-quality meals, customers felt not only human but special. While modern brands may not be able to serve a lobster with each customer interaction, they may consider small ways of bringing the 'special' back into their service regimen.
3. Be Mobile
Engaging with customers in the 1950s was truly a two-way street: Businesses began incorporating cars into their customer experience offering, making use of the easiest means of travel in the lives of their targeted customers. Not only did restaurant services like White Spot, A&W, and Sonic make the drive-in model one of fast food and convenience, mobile businesses like Mr. Softee brought its sweet products within walking distance of customers' doors. The moral of the story? Be present by making it easy for customers to reach you, and for you to reach them.
4. Be Generous
For some in the 1950s, going to a movie was akin to going to the symphony. Patrons dressed in their finery from head to toe and considered it a momentous occasion perhaps due to the generosity of the experience. Movie theaters of yore were generous with patrons' time: Pre-film features only showed newsreels and cartoons, thus giving them time to enjoy an experience without being targeted by ads. Theaters were also generous with personal time and offered intermission for patrons to refresh and restore. Added to this was a generosity with amenities and prices: Movie snacks were relatively inexpensive, which meant moviegoers weren't spending much above and beyond what they had already paid for tickets. The lesson here: Every now and then, and whenever possible, and for no other reason than being respectful and thankful for your customers' time (and money), be generous.
5. Be 'Plugged In'
As businesses boomed in the post-war years, they were soon finding themselves unable to cope with the growing number of customers and their support needs. But those who were 'plugged in' to technological advances and incorporated call centers into their customer culture made life easier for all involved. Although it crystallized in the 1960s and beyond, the first Automatic Call Distributor (ACD) emerged in the 1950s and helped streamline customer service functions across large businesses. From this humble starting point, businesses were able to grow their call center offerings to include things like touch-tone, hold technology, and in more contemporary times, call-back solutions.
Even though populations, prices, and circumstances have changed, there is something to glean from how CX was approached so many years ago. These tried, tested, and true 1950s rules of thumb would serve any brand well in reimaging its CX journey in 2018.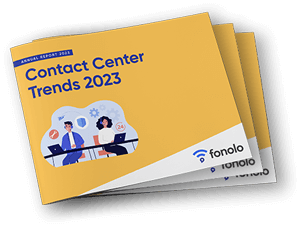 Trend Alert! Contact Center Industry Predictions for 2023
This report offers perspective on where the contact center industry stands today, plus our trend predictions for 2023.