Looking for The Top 10 Worst Companies to Call in 2019? Read it here.
HOLD EVERYTHING: The results are in.
Onholdwith.com, the Fonolo-powered site that mines Twitter for real-time complaints about being put on hold (and folks, there are many, many complaints), has today made its annual list of hold-time offenders available for all the world to see. And you may be surprised by who made the list.
OnHoldWith.com, launched by Fonolo a few years back, this year collected over a whopping 165,000 posts mentioning the phrase "on hold with" from Twitter. And as those of us in customer service know to a sobering degree, Twitter has quickly become a go-to platform customers use to shout about frustrating customer service experiences. The tweets informing the report this year confirm that: a) customers are increasingly turning to social media to publicly out companies for poor customer service handling, and b) a benchmark of this poor service is placing a customer on hold
While the companies on this year's top 10 list are doing exquisite things in their industries (and trust us, we are big fans of all of them), the results of this year's report signal that brands could be doing things even better, starting with sprucing up their customer service offerings.
So, here's a good question: Did your company make the list?
Before we go any further, let's just get this out of the way:
*Rips open envelope*
For 2018, Verizon has been named the worst company to call, based on hold-time complaints from callers.
Customer satisfaction with call centers remains a 'low point' for the telecommunications industry and, like in the case of subscription television services, continues to decline: "Like all telecom industries, call centers are the worst part of the customer experience." And, specifically for wireless service providers, "contacting customer service by phone is the principal pain point for customers."
Last year, the Onholdwith.com report revealed Delta Airlines to have the highest instances of complaint Tweets about putting customers on hold. While the airline has dropped out of the number one spot in 2018, it still takes a prominent third spot on the annual list as a hold-time offender. The complete top-10 list of reported offenders is:
Verizon
Virgin Media
Delta Airlines
United States Postal Service (USPS)
Telus
Ikea
PayPal
AT&T
Bank of America
Apple
The data, collected over a 12-month period, revealed that customers phoning into call centers most frequently report waiting on hold with companies from the telecommunications, airline, and financial industries. Other industries, such as travel, retail, and shipping, were also identified in this report. The study also revealed the industries with the most significant hold-time offenders:
Telecommunications
Airlines
Finance
Retail
Shipping
Government
Services
Travel/Accommodations
Utilities
Electronics
There's so much more to see on OnHoldWith.com, from humorous anecdotes to customer service horror stories. If you want to check out real-time statistics from social media-savvy customers waiting on hold, hop on over onholdwith.com/stats. Or, if you're a business interested in eliminating hold-time forever (something we make happen every day, and see its positive power), read more here about Fonolo's call-back solutions.
In the meantime: To all of our customer service friends, may you have a prosperous new year with limited hold-times. We hope *not* to see you on next year's list.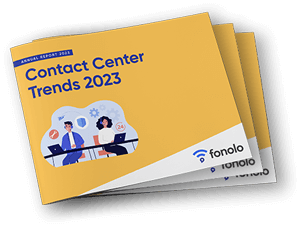 Trend Alert! Contact Center Industry Predictions for 2023
This report offers perspective on where the contact center industry stands today, plus our trend predictions for 2023.