We open in the year 2019.
It's a challenging time for customer service executives. Customer expectations are higher than ever … and competition is stiff. Roughly 82% of customers are willing to leave a brand because of poor customer service.
The protagonist prepares for a long journey through the customer service galaxy. The goal is simple: To provide customer support executives with the insights they need to meet the expectations of their customers in 2019 (and beyond). This field guide will help him, and you, on your journey to this goal. In it, you'll find the following easily-digestible sections in the report:
2019: A Voice Odyssey
The Bionic Agent
The Hitchhiker's Guide to Personalization
The Cloud Awakens
The Fifth Element
Planet of the Chatbots
Social Media Strikes Back
Chapter I – 2019: A Voice Odyssey
"I'm sorry, Dave. I'm afraid I can't do that."
This is a response that we are coming to expect less and less from our voice assistants. The Wall Street Journal was bold enough to recently declare "the end of typing" for the Internet's next billion users
who, it is predicted, will rely largely on voice computing. As Siri, Alexa, and Google Home Assistant become more ubiquitous presences in our private and professional lives, it's fair to ask whether they will also feature heavily in the future of customer service.
As Micah Solomon writes, context is crucial to understanding this new form of interaction. In the comfort of your own home, it's easy to talk with Alexa as you move around the house. Speaking with a voice assistant or voice-driven chatbots in an open-concept workspace or a restaurant? Not so natural. As a result, voice is unlikely to emerge as the dominant messaging channel any time soon.
An interesting, and often neglected, the side-effect of the emergence of these virtual assistants is the growing expectation it places on automated customer service solutions. As SmartAction points out, consumers expect these automated solutions to understand them just as well as Alexa in their living room (consumers don't understand the inherent complications in implementing a fully conversational AI system). Expect the gulf between consumer technology and the major IVRs and contact center platforms to continue to cause customer frustration.
In 2019, consumers will increasingly expect sophistication in the conversational automation offered by call centers. They will also expect them to move beyond handling only very simple interactions.
Chapter II – The Bionic Agent
As exciting as Artificial Intelligence (AI) is, it's difficult to make the argument that the technology is even close to replacing people as the cornerstone of customer service. In fact, the belief that we're at the tipping point of "bots versus humans" is misguided.
The reality is that the perfect usage of AI technology is not to replace customer service agents, but rather to enhance them. These "bionic agents" are effectively aided by technologies like AI. As a result, agents are quicker, have more information at their fingertips, and receive supplemental help. We've predicted – and continue to predict – that technology will support agents, not replace them.
Take the case of banks: Vizolution found that contact center agents who are able to "digitally share screens, display information, exchange documents and data, and sign agreements remotely have already seen a 20% improvement in customer satisfaction, conversion rates of over 25%, and a 50% reduction in transaction times."
Time-and-time again, customers choose digital channels that offer a human component, especially when there's more at stake for them. Ensure that your agents have the technology to be "better", "stronger", and "faster." Your customers will thank you.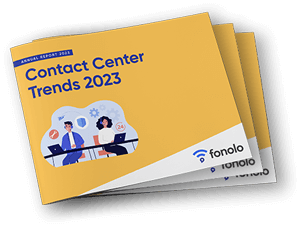 Trend Alert! Contact Center Industry Predictions for 2023
This report offers perspective on where the contact center industry stands today, plus our trend predictions for 2023.