As Harry Truman famously stated, "Not all readers are leaders, but all leaders are readers."  Wise words. Although this is true, how do customer service leaders strategically read to a) learn how to turn themselves into optimal leaders; and b) transform their teams into the high-performing customer service engines they aspire to be?
With this being the "Era of the Customer," it is now more important than ever for customer service professionals to stay ahead of ever-changing CX trends in the vast landscape that is the customer service and customer experience industries. Yes, an unwavering intellectual curiosity is a must in such an industry, but as you well know, it's not always enough. There exists a myriad of books out there to choose from, and while it may seem daunting to know where to begin, we Fonolonians can give you a leg-up.
At Fonolo, we make it our mission to stay abreast of news and call center trends so we can deliver the latest information on what is most important within the customer service industry. From metrics, to employee satisfaction, to advances in AI, our customer service blog has you covered. If you are a customer service professional; possess an unwavering intellectual curiosity; and/or customer service is simply important to you, you are in the right place.
Here, we give you the building blocks for putting a customer service library together, via an introduction to five excellent customer service books that are a must-have for your bookshelves.
1. Would You Do That to Your Mother?
Author: Jeanne Bliss
This is an intelligent read for any customer service professional. Bliss breaks down a complex topic into relatable and easy-to-consume bites about best practices, service-self-reflection, and the impact of well-thought-out customer journey strategies. It's a brilliant read for anyone looking to bolster their bookshelves.
Author: Shep Hyken
Being a celebrated leader in the customer service game, Hyken's book openly spells out what we already know but were afraid to say: Convenience is King. The riveting read breaks things down into six guiding principles, making it a digestible, dynamic, and ultimately, a convenient read.
3. Advice from a Call Center Geek
Author: Thomas Laird
If you are seeking to engage your employees while understanding how and why an employee-centric model will help you run today's high-end contact center, look no further: Laird's book of constructive, geek-friendly advice is for you.
4. Hug Your Haters: How to Embrace Complaints and Keep Your Customers
Author: Jay Baer
We featured Hug Your Haters last year and we're doing it again. Baer, shows up in nearly every top list for customer service must-reads including our and for good reason. Baer will completely change the way you view your customers and teach you that "haters are not your problem … ignoring them is."
This short list is only but a fragment of the breadth of exceptional customer service books on the market. We urge you to explore your own list and discover your own top five. May our list inspire you in your journey to build your personal customer service excellence library.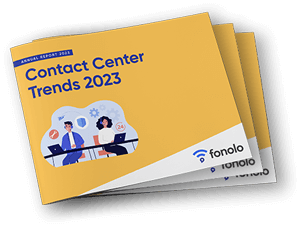 Trend Alert! Contact Center Industry Predictions for 2023
This report offers perspective on where the contact center industry stands today, plus our trend predictions for 2023.