These days, the odds are pretty high that a business will have a presence on social media, interacting with customers and promoting their product.
If you are just getting started or you haven't considered how you can use social media to benefit your business, it's time.
A lot of consumers use social media platforms to engage with brands because it's faster than sending mail and calling someone on the phone.
Over the last five years, more and more companies have been using social media platforms to connect directly with their consumers. Organizations are also earmarking millions of dollars for new social media teams, divisions and initiatives.
The ones that develop social media departments undoubtedly grow revenue and can save money on other outdated systems and the use of call centers. It also helps to improve customer satisfaction levels.
Start making the changes to get you to the next level. We've highlighted a couple of top tips that will help you provide good quality customer support through social media channels such as Facebook, Twitter and Instagram.
Response Times
Getting back to your customers in a reasonable amount of time will help establish a connection with your customers and give them something to appreciate about you. Using your social media platforms to basically turn customer service questions into tickets that you can address will actually save you time too.
You can give priority to technical issues with products and deal with shipping concerns. Having a quick resolution to any problem will help you in the long run and establish a reputation for listening to your customers, which could draw you more business.
Be Proactive
With social media platforms such as Facebook and Twitter, you can proactively start campaigns to directly engage customers. Whether you're doing product research or are introducing a new item to your menu, there are many ways to use social media to engage your customers and get them actively participating in the growth of your business.
Once you're connected to customers, you can engage them directly and establish a relationship with them through regular updates, new offers, discounts, new services and so much more. You can use it to talk about changes in pricing, employment opportunities and also activate charitable initiatives.
What's more, if you have a brand that is committed to social and environmental goals, you can use social media to demonstrate your campaigns and ideas in a meaningful and visual way.
Be Human
Just because you're using a robot to communicate doesn't mean you have to sound like one. The most important thing about social media engagement is to be authentic. Be yourself, sound like yourself. It's important to establish a tone that suits the energy of your business. Make customer interaction as human as possible.
Remember the goal is a connection.
Don't Auto-Respond
While we're on that note, do remember that auto-responses feel stale and impersonal. If you want to stay ahead of the game and not have to come up with individual responses for generic questions, create templated responses to frequently asked questions.
Better yet, if you have a website that doesn't have an FAQ page, then make one. You can get extra traffic to your website by directing your customers to a page where their inquires can be answered without hassle.
Choose the Right Channel
Whether it's Facebook, Twitter or Instagram, each platform has its own set of strengths and weaknesses. While Twitter and Facebook are more discussion-based platforms, Instagram is a more visual social media channel. Establish a connection with your customers on each platform based on what you're using them for.
With sites like LinkedIn, you'll definitely want to take more of a professional approach while on Twitter, you can establish more of a business-casual tone. It's all about setting the tone for your customers so consider this when you're creating your social media accounts.
Maintain Consistency
Engagement needs to occur daily. It's important that you provide your customers with the same level of quality and consistency on social media as the product you're selling. It's similar to a phone call with a customer or an email. You want to appear caring and you need to sound as professional as possible.
Again, not every social media platform is the same. You can customize your approach based on the account but always remember to consistently engage with your audience in some shape, way or form. It lets them know you have a message and an active product for them to consider buying.
This is especially the case if your business is aligned with social and environmental responsibility goals. Detail your progress and let them know how they can be a part of something bigger than themselves.
Today's millennials are looking for experiences, and in this climate, you can give it to them.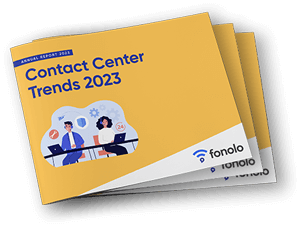 Trend Alert! Contact Center Industry Predictions for 2023
This report offers perspective on where the contact center industry stands today, plus our trend predictions for 2023.