Lots of conversations happen daily at your contact center. But do you know what's being left unsaid?
An open, communicative work environment is the key to a healthy and vibrant work culture. Saying you have an open-door work policy is easy; making sure that your contact center agents feel comfortable voicing their concerns to management is much more challenging.
Saying you have an open-door policy is easy; making sure your contact center agents feel comfortable voicing their concerns to management is much more challenging. Here are some things your agents aren't telling you. #cctr #cctrmanagement
Click To Tweet
A lot can happen in a short time in a contact center, and if your agents are holding back opinions, you may miss out on critical opportunities to support the people who make the magic happen with your customers. So, it's time to start listening closely to what your agents are saying — and what they're not saying too.
"I would like more flexible work options"
Since COVID-19 hit the business world, many contact centers were forced to pivot to a remote-work model. But now that restrictions are slowly being lifted, companies are faced with an important decision: to stay remote, or transition back to the office.
Your agents who have been living the flex-work reality likely have something to say about this decision. But you'll never hear from them if your management has a reputation for brushing-off employee input.
As a leader, it's your responsibility to start the conversation and encourage opinions and feedback — you may be surprised at the responses you receive!
"Our processes need improvement"
No one loves being told that the system is broken but silence isn't going to fix anything. One of the biggest reasons your agent may not share their concerns is the fear of offending the people who put it together in the first place. If members of your management have a tendency to react poorly to critique like this, it's time to change the narrative.
Begin by giving your agents opportunities to evaluate their processes and provide feedback. You should consider having anonymous submissions in case employees aren't comfortable having their names attached to their notes.
"I'm struggling to hit my quotas"
Real-life happens to everyone, and your agents are no exception. They may be going through a tough time at home, or perhaps they're burnt out and unmotivated at work.
It's much easier to manage your team of agents when you know what's happening with them. But often agents are afraid to share their struggles out of fear their supervisor will deem them incapable of doing their job.
Agent performance is evaluated on metrics — everything they do is recorded! An agent waiting in anticipation for their boss to inquire about their performance can compound their stress levels. Show them their value is in more than just the…
Click To Tweet
The key to addressing this challenge is to ensure your team knows you value them as a person first, and an employee second. Let your agents know that their value is rooted in much more than how many calls they make in a day. By setting this precedent, you make a commitment to not reprimand your agents who are struggling with their work, but rather, to focus on how you can support them and elevate their performance.
"I made a mistake"
Similar to the above statement, if your agents feel like they'll be reprimanded for making mistakes, you'll be much less likely to hear about it. And this can become a problem, especially if these problems get escalated.
We're all human and we all make mistakes. By responding to mistakes with constructive support rather than reprimanding them, you'll create opportunities for your team members to come forward openly and create opportunities to mitigate additional issues.
"I can't keep up with demand"
Most contact centers see high call volume and call spikes as a regular occurrence. By normalizing high call volume periods, you communicate to your agents that grinding through these tough periods is not only an expectation but a requirement of the job.
The reality is, dealing with high call volumes is exhausting. Even the most skilled contact center agents risk burnout over long periods of demand — this has become increasingly evident throughout the COVID-19 pandemic.
The good news is, high call volumes don't need to be a part of your call center's 'normal'. There are incredible tools that can help you manage sudden call spikes and ease the burden off your agents. Which brings us to our next point…
"We need better tools and resources"
While management likely selected the tools and resources for your contact center, your agents are the ones utilizing them on a daily basis. If there are issues, they'll be the first ones to know. However, if your agents refrain from sharing this information, the chances are you won't find out about the problem until it becomes a much bigger issue.
High call volumes don't need to be a part of your call center's 'normal'. There are many incredible tools that can help you manage sudden call spikes and ease the burden off your agents. #cctrmanagement Click To Tweet
Whether your team has outgrown its current toolbox or its resources no longer aligns with your company's processes, it is essential to pinpoint any issues early on.
Contact centers should be re-evaluating their tools and software regularly. This should include everything from your IVR, knowledge-base, and even your core contact center software.
Build Trust by Acting on Feedback
Encouraging your agents to provide feedback through a formal submission process or an informal conversation is the first step to opening the dialogue. But remember, the key to maintaining this line of communication — and building the trust that will empower your employees to help you improve the business — is to actually act on the feedback you receive.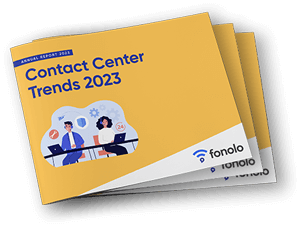 Trend Alert! Contact Center Industry Predictions for 2023
This report offers perspective on where the contact center industry stands today, plus our trend predictions for 2023.