Call center managers and agents know that a high volume of inbound customer calls can make or break a business day. During pandemics and other moments of crisis, call center agents are inundated with overwhelming spikes in call volume. That's why it's become increasingly important for businesses to upgrade their call center technologies, processes, and staffing practices to get ahead of the call-spike curve — ideally without breaking the bank.
But how can a call center save money when all signs point to a) rising costs; and b) the need for increased support to handle excess inbound phone inquiries? The simple answer is to hire more agents, but as any experienced contact center manager will tell you, spending time and money on sourcing talent often leads to making a call center even more expensive.
Never fear: there are alternatives, many of them related to outsourcing, upgrading, and optimizing your call center for the 21st century.
7 Ways to Lower Your Call Center Spending
1. Add remote call center teams.
Extend your office beyond its four walls by outsourcing your call center agents, locally or offshore. Having a backup remote team when disaster strikes, or at least when unpredictable call volumes rear their heads, brings peace of mind to agents. They can also lower your customers' frustration levels and time spent on hold.
Not convinced offshore outsourcing is the right move for your business No problem: many outsourced remote call center teams can provide their professional services right from the US or Canada.
2. Reduce telco costs by offering call-backs.
Too many calls and not enough time to answer them? Forcing customers to wait on hold for hours on end? You may be surprised to learn: there's a better, cost-saving alternative to this scenario that can ultimately eliminate hold time for good.
By offering call-backs, customers are empowered to save their place in the phone queue, hang up, and receive a call-back when the next available agent is free. The business case for call-backs is clear: they smooth out call spikes, improve the customer experience, lower your telco costs, and reduce abandonment rates.
3. Save time and money with an overflow handling service.
Overflow handling services are cost-effective and ensure that agents are always prepared for call volume spikes, saving you customers you would have otherwise lost on abandoned calls. Overflow services also improve the customer experience and ultimately support your business' bottom line. Plus, this type of outsourced call center support can positively impact on your CSat scores and your overall customer experience ratings.
4. Modernize your existing phone system infrastructure.
Opting for time- and energy-saving phone system options is worth a budget-savvy call center manager's time. These features can incorporate call routing, log calls more seamlessly, and improve multichannel responsiveness.
Choosing an automated technology that easily integrates with your current customer service infrastructure can help with voicemail, IVR, and other features. Plus, it will help you hold onto your hard-earned dollars and ensure that your call center is ready for what your work week has in store.
5. Work with what you have: invest in training-up your agents.
An informed and highly-trained call center team makes for a better operation. If you notice knowledge gaps and challenges in your agents' ability to handle peak periods, it may be time for a training tune-up.
As an alternative to outsourcing, try reinvesting in your existing staff with a refresher on customer service technologies and processes, and incorporating gamification as part of that process. Or, you could source training organizations like CSPN to provide support. Regardless of your approach, it's important to arm your staff with the tools and confidence needed to assist your customers.
6. Take advantage of AI to better predict call spikes.
Today's contact center intelligence is more than equipped to anticipate call overflow periods. Automated call center AI now provides call centers with extremely accurate forecasting of call volume patterns, and are thus instrumental in helping call centers properly schedule their agents in advance of peak periods. Even better, these types of predictive technologies are far more affordable than ever before.
7. Offer self-service to your customers.
Lower the amount of time your contact center staff spends trying to scale a mountain of backed-up incoming calls. Customer self-service solutions like Bright Pattern can help by managing self-service features like calls, chats, emails, and SMS/text messages. By investing in omnichannel solutions, your contact center can save money on dropped calls and better serve customers on their preferred communication line.
Luckily, there are many options to help you avoid spending even more money on expensive call center operations. Smart phone systems, outsourcing services, call-backs, and call center technologies can better equip your busy customer support center for success while saving you time, money, and the headache of unsatisfied customers.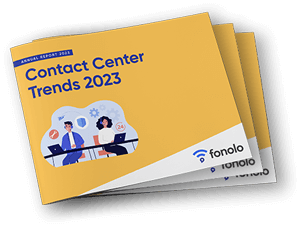 Trend Alert! Contact Center Industry Predictions for 2023
This report offers perspective on where the contact center industry stands today, plus our trend predictions for 2023.