The pandemic disrupted many contact center trends, but not all of them. Some, like the move to cloud-based contact center technology, were hastened in the last year.
Here are some of the ways call center trends around technology have changed.
Major Call Center Technology Trends in 2021
Ongoing tiered lockdown will establish many of the changes we saw last year, such as remote working and increasing digital enablement. There have already been rapid innovations in call center tech, which will become mainstream in 2021.
1. More secure contact center platforms
The rapid move to remote working has increased the need for more secure contact center platforms and legislation to protect customers' data. As we saw in our State of the Contact Center report, data security is the top concern for contact center managers next year.
2. More omnichannel workstations
Our report also found that omnichannel contact center workstations are now being deployed at the same rate as voice-only workstations. Consumers already expect to be able to move between channels at different points on their customer journey.
And as companies look for ways to match increasing call volume with decreasing resources, omnichannel stations that allow customer support reps to move across channels will become increasingly popular.
3. More AI-powered assistants for agents
Although AI-powered assistants for customers aren't a viable alternative to real call center agents yet, it can play an important role. The true role of Artificial Intelligence (AI) is to improve the customer experience from the agent side, by providing advanced analytics and predictions.
As companies look for ways to match increasing call volume with decreasing resources, omnichannel stations that allow reps to move across channels will become ever popular. #cxtrends #cctrtrends Click To Tweet
An increasing number of ingenious knowledge management and machine learning systems will help contact center agents get to the right answer faster. As FCR becomes a bigger priority, this kind of technology will take off.
4. Advanced call-backs and virtual queuing technology
Managing high call volume will continue to be a significant challenge for contact center managers in the coming years. Innovative ways to defer calls until later are in high demand.
While virtual queuing technology and call-backs have been around for a long time, they're only starting to become a mainstream call center technology. That's partly due to the pandemic and partly due to their development.
Advanced call-back features like Conversation Scheduling can help contact center managers manage high call volume by deferring calls to quieter times. This method is far more useful than just holding their place in the queue.
5. Voice-to-message technology
One exciting technology we came across was voice-to-message technology for the call center. This smart method of deferring calls to other communication channels introduces some friction into the customer experience but increases FCR and reduces resource-load.
Customers are given the option to leave a voice message and have an agent contact them later with an answer. Their voicemail is transcribed into text and sent to an appropriate support agent. The agent then finds a solution and responds to the customer via email, transitioning them from the voice channel naturally.
6. More agent performance and monitoring technology
With hybrid-style contact centers likely to be the norm going forwards, contact center managers will be looking for technology that helps them monitor and analyze agent performance.
Although detailed monitoring has a sinister tone, it's vital for a thriving contact center and doesn't have to be intrusive when done correctly.
Aside from driving KPIs, the increasing focus on agent satisfaction and mental health will bring many new and innovative call center tools. Many of these will also include employee mental health monitoring and gamification technology.
Driving the Major Contact Center Technology Trends 2021
The demand for more secure, better integrated, smarter technology in support of remote contact center teams will shape the industry in the next year and for many years to come. Increased call volume and agent attrition will also shape call center technology trends for many years to come.
The rapid change and development of solutions to mitigate them will also likely spawn some new technologies that we haven't even conceived of yet. It's an exciting time for contact center technology.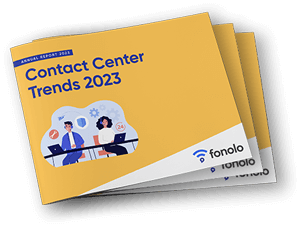 Trend Alert! Contact Center Industry Predictions for 2023
This report offers perspective on where the contact center industry stands today, plus our trend predictions for 2023.