You're probably familiar with IVR, or Interactive Voice Response, is a menu system that connects customers to the information they need in your call center.
Callers will use either a dial pad or tap-button options to connect with an appropriate agent or department to address their needs. An optimized IVR system is essential to call center software, as it reduces costs, improves customer satisfaction, increases first-call resolution (FCR), and increases overall call center efficiency.
Despite the efficiency that IVRs offer, most customers don't like using them. That's right – about 61% of customers associate IVRs with a poor customer experience. That's why it's so important to evaluate this essential tool and make any required upgrades, especially when you notice signs of customer complaints, low agent morale, or technology limitations.
Luckily, there are many ways to optimize your call center IVR so you can offer both your agents and customers a better experience. Here are some tips to optimize your IVR:
1. Test your IVR menu.
Evaluate your customer journey by testing your IVR menu options regularly. Put yourself in your customer's shoes – are the menu options self-explanatory and intuitive? Is the platform easy to use? Is the voice pleasant and personable? Is the wait time too long? Glitches and inconsistencies can make or break a customer experience, so it's worth your time to manage its upkeep.
2. Omni-channel or opti-channel.
An opti-channel strategy can help you determine the ideal communication channel for a specific customer. Alternatively, omni-channel (also known as multi-channel) integrates multiple channels (IVR, mobile, and web), and tracks user activity across all channels.
Omni-channel offers a more fulsome approach to customer communication, but it requires a lot of planning and coordination to operate efficiently. Opti-channel, on the other hand, provides a more simplified experience. Optimize your IVR by carefully considering which approach is more suitable for your company.
3. Use automatic routing.
Call routing is a standard feature of most IVRs, as it routes customer calls to their desired department or appropriate call center agent. Fonolo smart routing takes this one step further by directing call traffic efficiently with automatic routing, while using speech recognition to better analyze customer data and history and improve call efficiency.
4. Upgrade to Web Calll-Backs.
Customers are becoming more and more irritated with traditional IVR. Consider upgrading to Web Call-Backs (formerly known as a Visual IVR system), which performs a similar function through your business' webpage or app and allows customers to tap or click their preferred options and even enter important information that your agents can use to support them. Plus, it's more convenient for customers to tap or click menu options on a device than to listen to all of the menu options over the phone.
5. Adopt call-back technology.
Does your contact center experience dreaded call spikes at certain times? The last thing your customers want to hear on your IVR is "please hold…". Luckily, call-back technology solves this problem by offering customers a call-back from an available agent at a later time.
Not only are spikes troublesome for customers, they're also bad news for your agents. They'll hear the brunt of customer complaints if the center experiences a high call volume and customers are left on hold. Luckily, call center software has evolved over the past few years to solve this issue. Call-back technology decreases abandon rates, improves customer experience, and smooths out call spikes.
6. Always offer a live-agent option.
A good IVR system will guide customers to their virtual destination without them "zeroing out" in the first few seconds. After all, 69% of customers would rather solve a problem on their own, without interacting with an agent.
It may be tempting to only offer self-serve options. That said, it's always good to offer your customers the option to communicate with a live call center agent. If a customer is dealing with a more complex issue, they might prefer to speak to someone right away. Giving them that option will improve their satisfaction.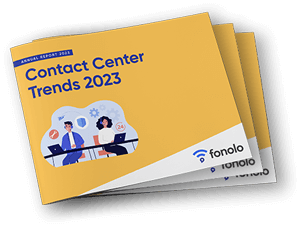 Trend Alert! Contact Center Industry Predictions for 2023
This report offers perspective on where the contact center industry stands today, plus our trend predictions for 2023.