Business reporting is important for any company in any industry — reports help identify issues, improve strategic goals, and promote business success! The same goes for call center reporting. As contact center leaders, you must meet your ever-evolving call center customer expectations or risk losing their loyalty.
How can you meet customer expectations? The answer lies in strong contact center reporting to help you improve your customer experience.
What is Call Center Reporting?
Contact center reporting is more than spewing out data. A good contact center report extracts comprehensible information from your call center metrics and data.
With this easy-to-understand information, call center managers and call center agents can understand the state of customer experience and improve call center efficiency.
There's a big difference between call center reporting and call center data. We're not talking about straight facts and measurements from your KPIs — we're talking about fleshing out that data and transforming it into actionable information.
For example, you might want to understand customer satisfaction through the CSAT score in your call center. You could assess the data over certain time periods or compare it across different departments or call center agents. You can use those comparisons to extract insightful and meaningful information, and voila! You have a call center report.
Important Call Center KPIs.
Before you create a report, you start with the data. Here are some important KPIs to consider when conducting call center reporting.
First Call/Contact Resolution (FCR).
This KPI measures how many customer calls are resolved on the first contact or call, aka before a customer hangs up. High FCR is valuable, as it improves agent productivity, increases customer satisfaction, and soothes high call volumes.
Abandon Rate.
This KPI measures how often a customer hangs up or leaves a conversation before resolving their issue.
Average Speed of Answer (ASA).
Also known as Service level, ASA measures how long it takes for agents to answer customers. For example, an "80/20" ASA indicates agents answer 80% of customer calls within 20 seconds.
Benefits of Call Center Reporting.
Call center reporting is essential for every call center, but why? Here are the benefits:
Keep customers happy. 
Forrester found that 80% of companies chose customer experience as their ideal edge against the competition.
But, customer experience goes nowhere without call center reporting. You can't keep your customers happy without understanding them, which is what call center reporting helps you do.
The better you understand your customer, the better their customer experience/
Improve remote call center management.
Call center reporting is a great tool for call center leaders that manage a remote call center. 
Without seeing your agents in the office, data from KPIs and then, call center reporting, can help you with workforce management.
For example, you can use call center reporting to compare CSAT scores amongst different agents.. This can help you better manage agents' performance and identify any obstacles to their work.
On the flip side, you can use call center reporting to track the call center agents that are performing the best. This will help you to promote positive feedback and recognition, even in a remote setting.
Significant cost savings.
Contact centers spend money on countless things, from labor and technology to utilities and office rent. Effective call center reporting helps you save on costs by helping you identify issues. Here's an example:
Say you notice that your customer CSATs are consistently higher for agents working remotely. You might continue to report on this metric but it might lead you to promote more remote working models across the center, which might keep your agents more efficient and pleasant.
This will not only keep your customers happy but will also save on costs.
4 Big Mistakes You're Making with Call Center Reporting.
Are you finding obstacles to customer experience goals and contact center productivity? Call center reporting should help, unless you're doing one of these four things:
1. You're not using the data you have.
These days contact centers have access to hundreds if not thousands of pieces of data about their call center operation. Let's start with the basics: number of calls from each customer, number of transfers, and number of long holds. Use the data you have for call center reporting first, then look for more.
2. You're not using call center technology.
What good is call center reporting without strategic goals and actions that follow? If your call center reporting demonstrates areas for improvement within your call center, take action with call center technology.
One idea is Fonolo's Voice Call-Backs, which is proven to improve metrics and customer experience! You might also consider Fonolo's Web Call-Backs (formerly Visual IVR), which helps you save on costs and reduce abandon rate.
3. You're overwhelmed with KPIs.
Call center reports should be digestible and actionable. If you're reporting on every KPI out there, it's hard to identify what your contact center goals for improvement are.
Focus on a select few key metrics to guide your call center reporting and subsequent strategic goals.
4. You're putting too much focus on Occupancy Rate.
Occupancy rate is the percentage of time that agents spend on the phone or otherwise in contact with customers. The truth is, your agents won't be speaking with customers all the time. They need time for training, breaks, and collaborating with managers and colleagues.
Of course, if a low occupancy rate is paired with high call volume, that might be a cause for concern. Otherwise, don't push your agents to the point of burnout if you notice low occupancy rates. There are more valuable KPIs to assess with call center reporting.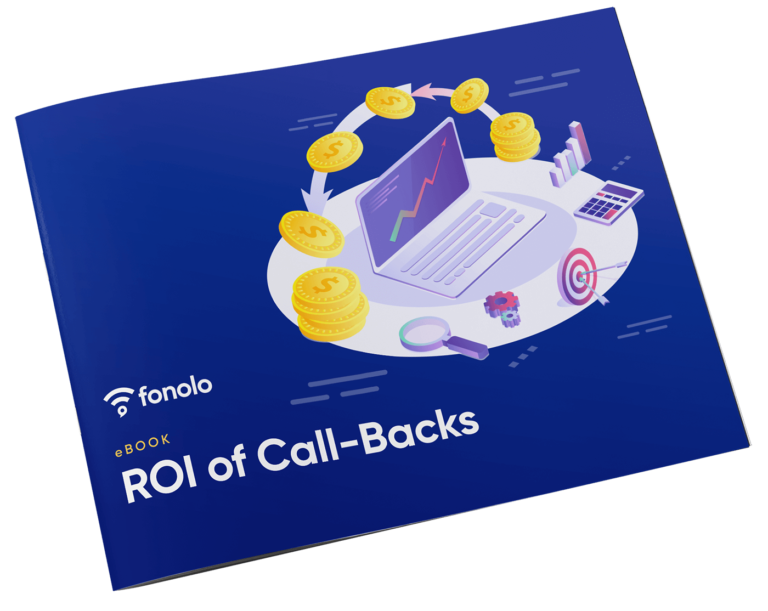 Find out the Real ROI of Call-Backs
Learn how you can build a business case for call-backs using this ROI eBook.