Customer experience managers in the contact center have never mattered more. Why? Because even though most businesses work hard to offer excellent service, today's savvy customers notice so much more. They also share and compare their experiences with your business against the biggest brands in the world. Excellent customer experience is a must and should never be overlooked.
If you're considering a career as a customer experience manager for a contact center, this blog post will help you get there.
Understanding the Role of a Customer Experience Manager
The first step in becoming a customer experience manager is understanding the job. The specifics of the role will vary from one contact center to another, but generally, a customer experience manager is responsible for overseeing the entire customer journey, from initial contact to post-sale support. Responsibilities can include:
Managing the overall customer experience: Customer experience managers are responsible for ensuring that all interactions with customers are positive and meet or exceed the customer's expectations.
Developing customer service policies and procedures: The role involves creating and implementing policies and procedures that improve the customer experience, reduce customer complaints, and increase customer satisfaction. Implementing new technology may also be required.
Monitoring customer satisfaction levels: A customer experience manager will evaluate feedback and monitor trends. They'll also track contact center metrics like net promoter score, customer satisfaction score, and customer effort score to understand customers' needs and identify ways to improve CX.
Providing training and coaching: Training and coaching call center agents is an important part of the job. Managers must ensure their agents have the skills and knowledge to provide excellent customer service.
Managing customer complaints: Handling customer complaints can be a challenging part of any job. Customer experience managers may work across departments to resolve any issues that arise.
Regular quality assurance reviews: Conducting regular quality assurance reviews to ensure call center agents meet the company's customer service standards is another essential part of the job.
FACT:
88 percent of consumers say their experience with a company's contact center is just as important as the quality of the product. CX matters! (Salesforce)
How to Become a Customer Experience Manager
Step 1: Build your education
Formal education isn't always required to become a customer experience manager, but having a degree in a related field like business administration, marketing, or communications can help. There are certification programs available and online training, too, that can give you the knowledge and skills needed to succeed in this role.
Step 2: Gain relevant experience
To qualify for the job, you'll need relevant experience in customer service and management. This could involve working as a customer service representative, a team leader, or a contact center manager. You'll also need data analysis, project management, and customer feedback analysis skills.
Step 3: Develop your leadership skills
Strong leadership skills will be crucial to your success in this role. This involves motivating and inspiring your team, communicating effectively, and making strategic decisions that benefit both the company and the customer. Coursework and relevant on-the-job experience can help you hone your leadership skills.
Step 4: Stay up-to-date with industry trends
Managers should always be up-to-date with industry trends and best practices. Grow your knowledge by attending conferences and networking events, reading industry publications, and staying informed about emerging technologies and customer behaviors.
More than ever, contact centers offer solid career pathways! Salaries are good - customer service managers earn US$69K per year, on average - and today's contact centers are growth centers and technical leaders.#CX #CustomerServiceManagers
Click To Tweet
How Much Money Does a Customer Experience Manager Make?
Data from Payscale says the average US contact center customer experience manager makes $69,000 annually. Salaries can range from $43,000 to $107,000 annually, depending on location, company size, industry, and experience level. 
As CX becomes an increasingly important differentiator for businesses, customer experience management has become more crucial in contact centers and other industries. Companies are investing more resources in improving the customer experience, so the demand for skilled professionals in this area has increased.
How is this Position Different from a Customer Success Manager?
A customer experience manager and a customer success manager have different roles and responsibilities, although there may be some overlap depending on the company and industry.
Customer Experience Manager
A customer experience manager oversees the overall customer experience, ensuring customers have a positive and seamless experience when interacting with the company or organization. They may work to identify pain points in the customer journey and implement solutions to improve customer satisfaction and loyalty. CEMs may also be responsible for developing customer experience strategies, managing customer service teams, and analyzing customer feedback and data to make informed decisions about improving the customer experience
Customer Success Manager
On the other hand, a customer success manager is focused on helping customers achieve their goals using a particular product or service. They work closely with customers to understand their needs and ensure they get the most value from the product or service.
Customer success managers may provide customer training and support, identify opportunities for upselling or cross-selling, and work to resolve customer issues or complaints. Their goal is to ensure that customers successfully use the product or service.
Is a Customer Service Manager Different from a Call Center Manager?
While there may be some overlap in the tasks associated with these roles, a customer experience manager typically has a broader focus on the overall customer experience, while a call center manager may be more focused on the day-to-day operations of a specific team within the call center.
A customer experience manager may work with multiple teams within a company, including marketing, sales, product development, and customer service, to ensure that all customer interactions are aligned with the company's overall brand and messaging. They may also be responsible for developing and implementing customer feedback programs, analyzing customer data, and making recommendations to improve the overall customer experience.
Are you all about the customer journey? If so, becoming a customer experience manager in the contact center may be the right path for you!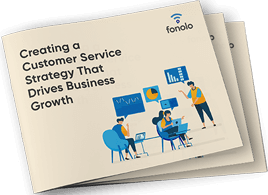 Creating a Customer Service Strategy That Drives Business Growth